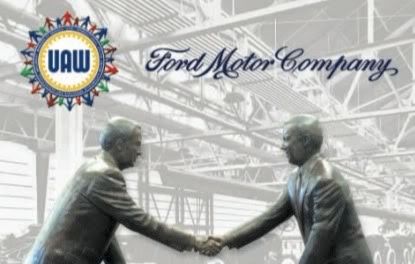 Ford and the United Auto Workers are set to begin new contract talks under a set of circumstances radically different from any previously faced by either party. There is the "minor" matter of the union's ownership stakes in General Motors and Chrysler that arose in the wake of those two companies' government-engineered bankruptcy filings, accomplished with more than a little rule-bending by the Obama administration and its car czars.
But you wouldn't learn about any of this, let alone its potential effect on negotiations, from reading coverage of the situation by the Associated Press's Kimberly Johnson. Additionally, there's quite a bit of emphasis on the idea that Ford can supposedly afford to be more generous with pay and benefits than its two major Detroit rivals. How convenient — for the union and the the other two companies.
Here are key paragraphs from Johnson's very incomplete report:
UAW bristles as Ford seeks concessions

DETROIT – The amicable relationship Ford Motor Co. has shared for decades with the United Autos Workers union may be on the verge of cracking, as the automaker seeks to cut its labor costs at time when it is in a far stronger position than its U.S. competitors.

Dearborn-based Ford and members of the UAW's bargaining committee for Ford are meeting last week. On the table: additional concessions on work rules, strike provisions and wages for new hires.

The talks will be challenging. Ford's union workers agreed to amend their 2007 contract in March with concessions to help the automaker cut costs and avoid taking government aid. Some local union officials say workers have no interest in accepting further cuts.

"Once you open door, it just doesn't stop, they keep coming back for more," said Gary Walkowicz, bargaining committee member for UAW Local 600, representing workers at Ford's Dearborn truck plant. Walkowicz said he is opposed to future concessions and is "not surprised the company keeps coming back."

But concessions agreed to by General Motors and Chrysler hourly workers went deeper than Ford's, as workers feared their companies would slip into bankruptcy and be forced to layoff thousands of workers. Most of those jobs were saved during the quick trip through bankruptcy court because GM and Chrysler union contracts were already amended and approved before the bankruptcy filings.

Now Ford, the only U.S. automaker to pass on government aid and the first to get a modified contract deal approved, is back at the table looking for parity with GM and Chrysler.

Ford CEO Alan Mulally has repeatedly said the company would "not be disadvantaged" when it comes to labor costs.

…. And the company is improving. Ford turned a $2.3 billion profit in the second quarter thanks to its debt reduction efforts. July sales rose 2.4 percent, and with Ford Focuses and Escapes being among the top sellers in the Cash for Clunkers program, August sales are expected show an improvement over last year.

"Everything looks favorable for Ford. This means it's difficult for them now to suddenly claim poverty," said Gary Chaison, professor of labor relations at Clark University in Worcester, Mass. "It can very easily strain their relationship with the UAW."
The claim to poverty isn't exactly "sudden." The fact is that the company lost an incredible $30 billion from 2006 through 2008 and had a relatively narrow loss in the first quarter of 2009. The company has one good quarter, and "suddenly" it can afford to put itself at a 4-year competitive disadvantage? Uh, no.
If the economy doesn't (excuse the expression) pick up, a cost structure significantly higher than that found at GM, Chrysler, and its principal Japanese transplant rivals Toyota, Honda, and Nissan could hurt margins and start the cycle of losses in Dearborn all over again — and this time the company is mortgaged to the hilt.
Johnson's failure to explore the drop-dead obvious conflicts of interest inherent in a company having to negotiate with an entity that owns and/or controls two of its principal rivals is an unfortunately likely foreshadowing of the kid-glove approach we'll see from the establishment media in the coming years.
Cross-posted at NewsBusters.org.