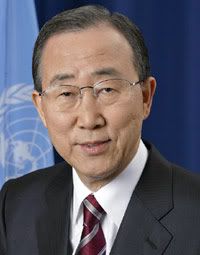 Readers are advised to make peace with the Maker soon. If we are to believe the recent utterings of United Nations Secretary-General Ban Ki-moon (pictured at right), humanity — or at least humanity living life as we know it — is not long for this earth.
The Sec-Gen's August 11 speech at the Global Economic Forum in Incheon, South Korea, was so over the top that it's likely the world's media kept its coverage of the event relatively muted to spare the poor man from worldwide embarrassment. There is nothing about the speech that I could find in searches on "Ban Ki-Moon United Nations" (not typed in quotes) at the New York Times or the Washington Post. A search on the same string at AP.org at 3:30 p.m. came up empty. An identical Google News search came back with a very light total of 42 results.
Here are key paragraphs from the Sec-Gen's hysterical speech, where he also (surprise, surprise) demands large sums of money "from public and private sources":
If we fail to act, climate change will intensify droughts, floods and other natural disasters.

Water shortages will affect hundreds of millions of people. Malnutrition will engulf large parts of the developing world. Tensions will worsen. Social unrest – even violence – could follow.

The damage to national economies will be enormous. The human suffering will be incalculable.

We have the power to change course. But we must do it now.

As we move toward Copenhagen in December, we must "Seal a Deal" on climate change that secures our common future. I'm glad that the Chairman of the forum and many other speakers have used my campaign slogan "Seal the Deal" in Copenhagen. I won't charge them loyalty. Please use this "Seal the Deal" as widely as possible, as much as you can. We must seal the deal in Copenhagen for the future of humanity.

We have just four months. Four months to secure the future of our planet.

Any agreement must be fair, effective, equitable and comprehensive, and based on science. And it must help vulnerable nations adapt to climate change.

Ladies and gentlemen, the science is clear. We know what to do and we know how to do it. ….

What is needed is the political will. We have the capacity. We have finance. We have the technology. The largest lacking is political will. That is why I will convey some meetings focused on climate change. I have invited all the leaders of the world including President Lee.

…..developed countries must provide sufficient, measurable, reportable and verifiable financial and technological support to developing countries.

This will allow developing countries to pursue their mitigation efforts as part of their sustainable green growth strategies and to adapt to accelerating climate impacts.

Significant resources will be needed from both public and private sources.

Developing countries, especially the most vulnerable, will collectively need billions of dollars in public financing for adaptation.

I am talking here about new money – not re-packaged Official Development Assistance. This is one of the most important issues which we are going to discuss on September 22nd in New York, and this year again at the G20 Summit Meeting in Pittsburgh on September 24th.
Most sober worldwide observers are already severely dampening expectations that the Copenhagen conference to which the Sec-Gen refers will produce anything definitive (my personal opinion if that is indeed the outcome is, "Thank goodness.")
What over-the-top rhetorical depths will Ban Ki-moon sink to if that is what indeed happens?
Cross-posted at NewsBusters.org.