Here's what August looks like thus far (from August 19, 2009 and August 20, 2008 Daily Treasury Statements):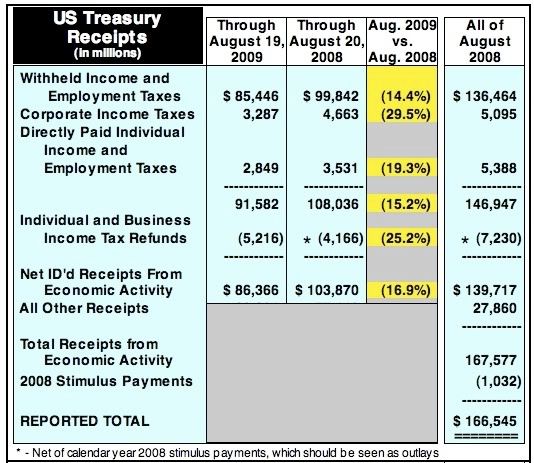 Same old, same old — except that this time, we're beginning the second year of consecutive monthly declines in receipts from economic activity. That's because we're now in the 14th full month of the POR (Pelosi-Obama-Reid) Economy, now the POR Recession/"Repression" As Normal People Define It.
The really troubling part of this is the withholdings decline. A lot of that will disappear at the end of the month because August 2009 has five high-receipt Mondays, while August 2008 had four. Since a typical Monday is good for about $17 billion in withholding receipts, August 2009 total collections may ultimately end up roughly equalling August 2008. The figures through August 19, 2009 and August 20, 2008 above each include three Mondays, and thus more accurately reflect the ongoing downward spiral than the month-end report will show.
Don't be fooled. Besides, September 2008 had five Mondays and September 2009 will only have four, so the September decline in withholding collections will tilt in the other direction, and will thus be a bit higher.