We're more than halfway through the third quarter, and we haven't returned to growth yet? And there's only a "good chance" for the "near-term"?
I thought you guys predicted positive third-quarter growth not that long ago.
I'll have to find it later due to other commitments, but a positive range for predicted third- and fourth-quarter growth, or a scenario for the second half that virtually requires the third quarter to be positive, is buried here in BizzyBlog somewhere, or elsewhere ….
UPDATE: I don't know how you get to this from what Bernanke said, but here's how at least one press report interpreted it:
The United States is expected to post positive growth in the third quarter
UPDATE 2: Now I remember, from this post a month ago: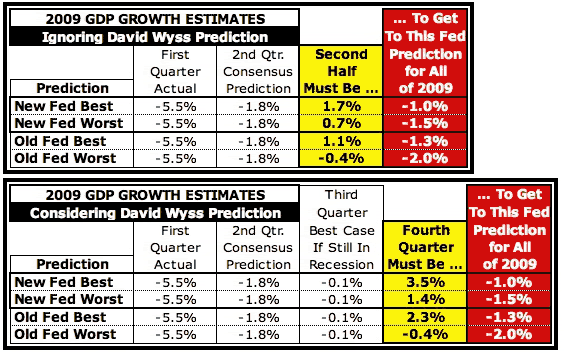 The chart doesn't need a rework despite the late-July comprehensive GDP revision, because the current combined 1st and 2nd quarter actuals of -7.4% (-6.4% in the first and -1.0% in the second) are only slightly worse than the -7.3% in the original analysis (-5.5% in the first and -1.8% in the second).
If you predict a negative third quarter (which I think is what Bernanke is saying), then, as seen above, you put a lot of pressure on the fourth quarter to be robust. But Bernanke is saying recovery "could be slow." I think there's reason to question whether the recovery will be there. Of course, I hope I'm wrong, and that growth does return. At this point, any recovery will clearly have nothing to do with anything the Obama administration did, while a continued recession would only be evidence that its statist outlook and/or additional statist legislation continues to rattle those who could get this economy moving again, keeping them on the sidelines.