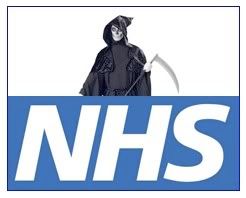 There's a reason Matt Drudge just got done celebrating an all-time record August traffic count. His visitors know that he constantly links to newsworthy stories they likely won't find reported prominently in establishment U.S. media outlets, if they're reported at all.
Such will likely be the case with a blockbuster story coming out of Great Britain tonight, courtesy of the U.K. Telegraph. It seems that there's this treatment protocol called the "Liverpool Care Pathway." Under the Pathway's guidelines, according to the Telegraph, "Under the guidelines the decision to diagnose that a patient is close to death is made by the entire medical team treating them, including a senior doctor."
Why, if I didn't know any better, that sounds like a d-d-d-d-death panel, complete with top-down ("senior doctor") supervision.
Here are just a few excerpts from Telegraph Medical Correspondent Kate Devlin's must-read report. Especially note the chilling statistic in the second-last paragraph of the excerpt:
Sentenced to death on the NHS

Patients with terminal illnesses are being made to die prematurely under an NHS scheme to help end their lives, leading doctors warn today.

In a letter to The Daily Telegraph, a group of experts who care for the terminally ill claim that some patients are being wrongly judged as close to death.

Under NHS guidance introduced across England to help doctors and medical staff deal with dying patients, they can then have fluid and drugs withdrawn and many are put on continuous sedation until they pass away. But this approach can also mask the signs that their condition is improving, the experts warn.

As a result the scheme is causing a "national crisis" in patient care, the letter states. It has been signed palliative care experts including Professor Peter Millard, Emeritus Professor of Geriatrics, University of London, Dr Peter Hargreaves, a consultant in Palliative Medicine at St Luke's cancer centre in Guildford, and four others.

"Forecasting death is an inexact science,"they say. Patients are being diagnosed as being close to death "without regard to the fact that the diagnosis could be wrong.

"As a result a national wave of discontent is building up, as family and friends witness the denial of fluids and food to patients."

…. (Dr. Hargreaves) added that some patients were being "wrongly" put on the pathway, which created a "self-fulfilling prophecy" that they would die.

….. "It is supposed to let people die with dignity but it can become a self-fulfilling prophecy.

"Patients who are allowed to become dehydrated and then become confused can be wrongly put on this pathway."

In 2007-08 16.5 per cent of deaths in Britain came about after continuous deep sedation, according to researchers at the Barts and the London School of Medicine and Dentistry, twice as many as in Belgium and the Netherlands.

"If they are sedated it is much harder to see that a patient is getting better," Prof Millard said.
Based on the above 16.5% statistic, about 95,000 of the UK's 574,700 deaths in 2007 "came after continuous deep sedation." If the UK's death rate after continuous deep sedation would have replicated Belgium and the Netherlands, about 47,000 fewer would have died under those circumstances. How many of them should still be alive today? The suggestion that the number is in the thousands, if not the tens of thousands, would appear to be not at all unreasonable.
So whaddaya think, New York Times, Washington Post, LA Times, Associated Press, and Big 3 networks? In the midst of an attempt to impose a statist health care system on this country, isn't the fact that one of the oldest statist health care systems in the world is more than likely systematically and prematurely offing thousands of patients a story? Or are you going to let Matt Drudge keep linking to the real news you ignore until you're no longing just circling the drain, but actually in it?
Cross-posted at NewsBusters.org.