The runup:
ADP's employment report showed another 298,000 seasonally adjusted nonfarm private jobs lost in August, and a revision of +11,000 to July from -371,000 to -360,000. According to a CNN e-mail I received, this was worse than expected.
This WaPo blog link says that "Forecasters expect the national unemployment rate to tick up from 9.4 percent to 9.5 percent."
This AP story at the Houston Chronicle says that "Economists predict the 9.4 percent jobless rate will rise to 9.5 percent, with 225,000 net job losses in August." That's echoed here.
The -225,000 figure is seasonally adjusted. Looking at the not seasonally adjusted job add/loss figures from previous years, it will be a sign of improvement, or should I say lessening decay, if the economy added some jobs on the ground in August:
July 2009 was the first time since October 2007 that the on-the-ground number improved over the previous year. One would at a minimum hope that that will to continue. Oops, with the release of today's report that sentence is not longer true.
Things to watch for: Black and teenage unemployment changes in the wake of the increase in the minimum wage that took effect on July 24; whether or not the overall workforce (i.e., people working or looking for work) is shrinking, which would tend to dampen the official unemployment rate; and the impact of revisions to prior months.
We shall see, at 8:30 a.m., at this Bureaus of Labor Statistics link.
The report — Ouch, this is not a good Labor Day sendoff for Dear Leader:
Nonfarm payroll employment continued to decline in August (-216,000), and the unemployment rate rose to 9.7 percent, the U.S. Bureau of Labor Statistics reported today. Although job losses continued in many of the major industry sectors in August, the declines have moderated in recent months.
No matter how you try to spin it, the 0.3% increase in the unemployment rate is the big news. Absent other evidence, it indicate that the slight rate drop last month from 9.5% to 9.4% was a one-time breather and not a trend-breaker.
Additional items:
The adult male unemployment rate (10.1%) is 2.5% higher than that of adult women (7.6%). That gap widened by 0.2% from July's 9.8% and 7.5%, respectively.
"About 2.3 million persons were marginally attached to the labor force in August, reflecting an increase of 630,000 from a year earlier." That year-over-year change is an improvement over July's 709,000 increase.
"Among the marginally attached, the number of discouraged workers in August (758,000) has nearly doubled over the past 12 months." The number is down from July's 709,000 (not related to the same value in the previous item).
Revisions to previous months went the wrong way by a total of 49,000 jobs. June went from -443K to -463, and July went from -247K to -276K. Thus, BLS now believes that 265,000 fewer Americans (-216K reported today minus the 49K just noted) were working in August than it believed were working in July when it issued its July report.
Most important, and something you can virtually guarantee the press won't mention, is that the on the ground, not seasonally adjusted number for August of -179,000 was terrible: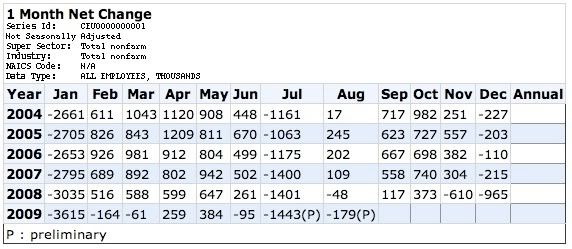 Additionally, June (from -69K to -95K) and July (from -1,333K to -1,443K) were both revised downward. July's downward on-the-ground revision of -110K caused it to be worse than the previous year (instead of better, as reported last month), meaning that there is now, pending possible revisions to July and August, an unbroken string of 22 months of poorer year-over-year performances.
Before the report was released, I said that "it will be a sign of improvement, or should I say lessening decay, if the economy added some jobs on the ground in August." Today's report, despite the seasonally adjusted job-loss number that came in better than July, really indicates that the decay continues on its merry way.