At BigGovernment.com right now, where Numbers 2 through 12 are a result of Number 1: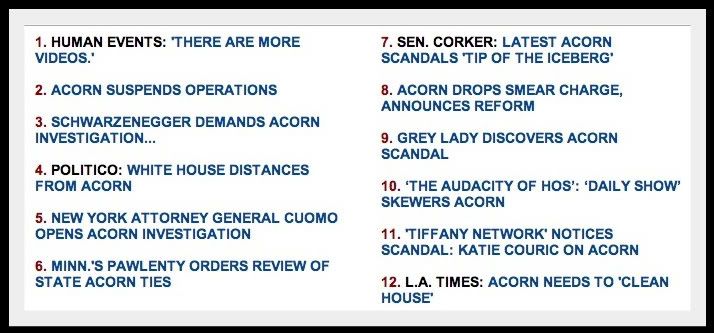 God bless James O'Keefe, Hannah Giles, and Andrew Breitbart, and protect them from harm.
UPDATE 1: "New ACORN Video: The San Diego Sting." UPDATE 1A, Sept. 17: The long version.
UPDATE 2: Why the prayers? This is why — "ACORN 'Chief Organizer' Says 'We're Gonna Go After This Videographer and Fox.'" As pointed out earlier this month, "Gangsters play for keeps."
UDPATE 3, Sept. 17: New, via Breitbart TV — "Senator (Roland Burris) Flees Fox News Reporter Asking Why He Supports ACORN." Burris specifically responded that "I support ACORN in Illinois."
UPDATE 4, Sept. 17: Associated Press — "House Votes to Cut Off Federal Funding to ACORN" (roll call vote).