After a summer swoon, you would think that the evening newscasts of the Big 3 networks would start to recover a bit now that many Americans are back from vacations, kids are back in school, and fall routines are getting established or re-established.
So far, you would be wrong.
It's early, and there's still plenty of time this fall to recover, but during the time period after Labor Day, the broadcasts primarily anchored by Brian Williams at NBC, Charles Gibson at ABC, and Katie Couric at CBS:
Are down a combined 28.5% from their peak in late January during the first full week of Barack Obama's presidency.
Have lost a combined 37.7% of their audience in the  25-54 demographic during the same time period.
Are down year-over-year compared to September 1, 2008, the week after Labor a year ago, by 8.9% overall and 18.1% in the 25-54 demographic.
At 19.55 million, are basically drawing audiences no larger than they were during this past (for them) miserable summer.
What follows are related graphics (source material comes from posts in the Evening News Ratings Category at Media Bistro's TV Newser.
Here's the overall, down from 27.36 million during the week of January 26 to 19.55 million during the relevant days this past week: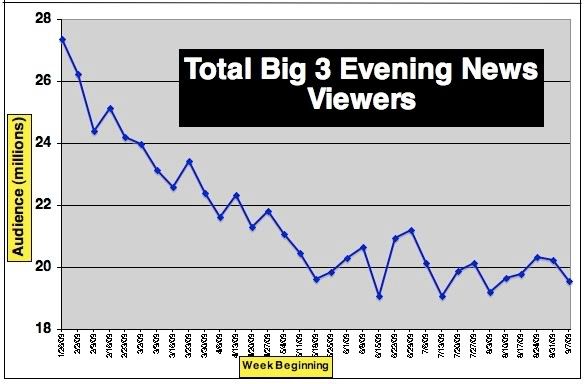 Here's the by-network look, where ABC can take a tiny bit of comfort in having passed NBC during the past week — but only because NBC lost about 500,000 viewers: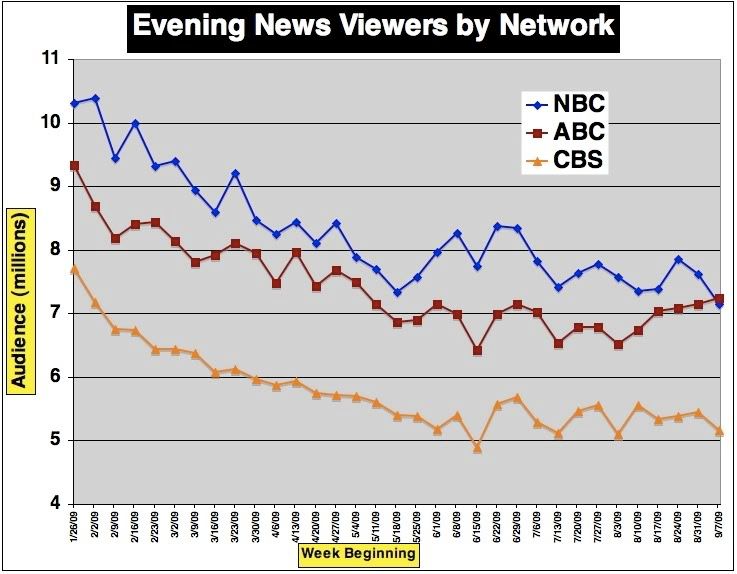 Finally, here's a chart comparing this past week to the January 26 peak week and the analogous week from a year ago:
There's little point in denying that Big 3 Nets supported and heavily invested in Barack Obama's electoral rise and ultimate victory, risking large-scale alienation of what remained of its already-shrinking audience. From a ratings and presumably financial standpoint, it's pretty hard to argue that it was worth it. The Internet doesn't cause almost 30% of an audience to disappear in less than 8 months. More recently, as documented frequently at NewsBusters, all three networks have bit on the "subtle racism" meme and, until recent days, totally ignored James O'Keefe's and Hannah Giles's unmasking of the seamy side of ACORN, more than likely driving even more viewers away.
Although the 500 employees getting laid off at NBC (after buyouts were offered to "virtually everyone") would probably agree that the complete sellout has not been worth it, it wouldn't surprise me if the hardened ideologues with the smiley faces at the Big 3 networks consider such actions unfortunate and inconvenient collateral damage.
Cross-posted at NewsBusters.org.