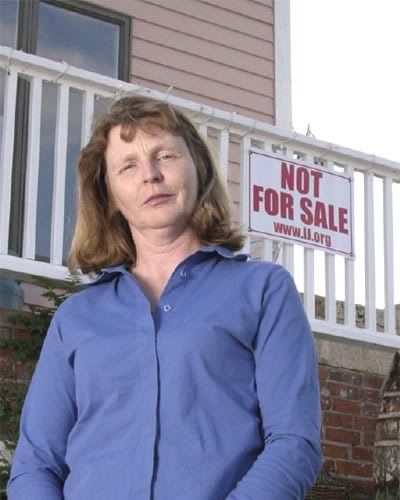 Pigs aren't flying, but don't be surprised if you see a few of them sprouting wings.
The Associated Press, which along with the rest of the establishment media has almost totally ignored the aftermath of the awful Kelo v. New London ruling over fours ago, actually carried a mostly fair and balanced piece about where things stand by writer Katie Nelson. Though I've followed the story reasonably closely since the fall of 2005, I learned a few things I didn't know about the City of New London's original lofty promises.
I do have a couple of quibbles, the biggest one being the current headline ("Conn. land vacant 4 years after court OK'd seizure"). It seems to me that the word "Kelo," as in Susette Kelo (pictured at top right), belongs in it. My other problem is that it's a weekend story and will thus be lightly read.
But let me highlight the better paragraphs in Nelson's report:
Weeds, glass, bricks, pieces of pipe and shingle splinters have replaced the knot of aging homes at the site of the nation's most notorious eminent domain project.

There are a few signs of life: Feral cats glare at visitors from a miniature jungle of Queen Anne's lace, thistle and goldenrod. Gulls swoop between the lot's towering trees and the adjacent sewage treatment plant.

But what of the promised building boom that was supposed to come wrapped and ribboned with up to 3,169 new jobs and $1.2 million a year in tax revenues? They are noticeably missing.

Proponents of the ambitious plan blame the sour economy. Opponents call it a "poetic justice."

"They are getting what they deserve. They are going to get nothing," said Susette Kelo, the lead plaintiff in the landmark property rights case. "I don't think this is what the United States Supreme Court justices had in mind when they made this decision."

…. New London officials decided they needed Kelo's land and the surrounding 90 acres for a multimillion-dollar private development that included residential, hotel conference, research and development space and a new state park that would complement a new $350 million Pfizer pharmaceutical research facility.

Kelo and six other homeowners fought for years, all the way to the U.S. Supreme Court. In 2005, justices voted 5-4 against them, giving cities across the country the right to use eminent domain to take property for private development.

The decision was sharply criticized and created grassroots backlash. Forty states quickly passed new, protective rules and regulations, according to the National Conference of State Legislatures.

…. In New London the city's prized economic development plan has fallen apart as the economy crumbled.

…. In July, backers halted fundraising for the project's crown jewel, a proposed $60 million, 60,000-square-foot Coast Guard museum.
Read the rest of Nelson's story for other quotes from Kelo, Kelos's Institute for Justice lawyer Scott Bullock, and current New London Development Corporation excuse-maker John Brooks, who blames the Kelo litigation itself for the development failure.
Nelson did miss one thing that continues to annoy: the fact the high-powered Italian Dramatic Club, in an act of blatant political favoritism, was spared the wrecking ball and allowed to stay where it is, while homes right next to it were demolished. This June 2006 BizzyBlog post, which includes a view of the neighborhood and identification of the holdouts' home locations, shows how absurd the IDC's permission to survive really was. The media's failure to tell its consumers about the IDC's survival while homes around it were destroyed kept public sympathy for the Kelo holdouts lower than it should have been, and made the Supreme Court's risible decision in the case easier than it should have been.
Image found at ArkJournal.com.
Cross-posted at NewsBusters.org.