Since the POR (Pelosi-Obama-Reid) Economy began, federal receipts from economic activity (i.e., excluding 2008′s stimulus payments, which the government treated as negative receipts) have plummeted dangerously: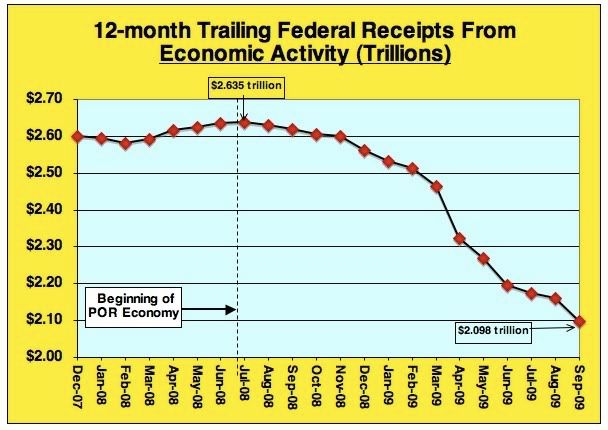 The chart assumes that September 2009 receipts will come in at $210 billion. That's probably optimistic.
As noted earlier this morning (Pajamas Media; BizzyBlog tease), one cash casualty has been the short-term viability of the Social Security system, which is running monthly cash deficits right now, and which the Congressional Budget Office has said will start running cash deficits on an annual basis starting next year (actually now this year, since it's October 1). If unemployment, which is currently at 9.7% and still due to climb more, stays above even 8% for an extended time period, which Obama administration economist Larry Summers has said is a virtual certainty, CBO's numbers will have been proven to be very optimistic.
So …. rolling 12-month receipts are down 20% in just 14 months, while spending is up by …. well, if you can figure that one out, go ahead. There are reported expenditures, TARP disbursements (treated as "investments"), plus whatever the Fed, the FDIC and heaven knows who else have been doling out without accountability in the background. Based on what is known, it looks like the minimum increase only in reported expenditures on September's Monthly Treasury Statement (due out on October 12 or 13) plus TARP disbursements carried as "investments" will be $700 billion in fiscal 2009 over fiscal 2008.
Social Security isn't the only place where the train wreck is at the station.