Well, the prediction as of Wednesday was for 180,000 seasonally adjusted jobs lost, and the result was 263,000.
The unemployment rate went to 9.8%.
If this is a "recovery," what's a "boom"? Breaking even? More to come.
___________________________________________
UPDATE: Actually, not that it's particularly impressive, but there was an improvement over last year in the not seasonally adjusted figures: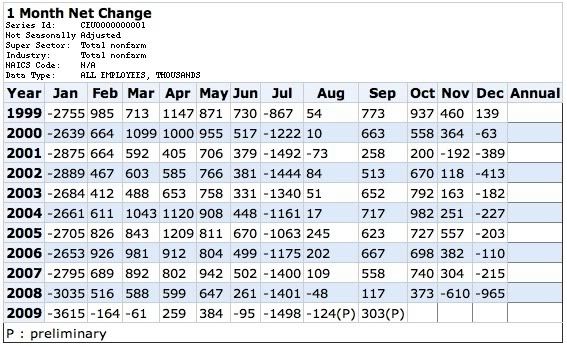 That's the first year-over-year improvement since October 2007. But we're heading into a period where last year's comparables are terribly skewed by the impact of the full force of the POR (Pelosi-Obama-Reid) Economy, the further meltdown in confidence caused by the TARP bailout/sellout, and the intensely negative job-market reaction to Barack Obama's election.
So of course the next few months on the ground are going to look better than last year. That shouldn't impress anyone.
This is probably as good a time as any to update the POR Economy job losses vs. the supposedly recessionary previous seven months: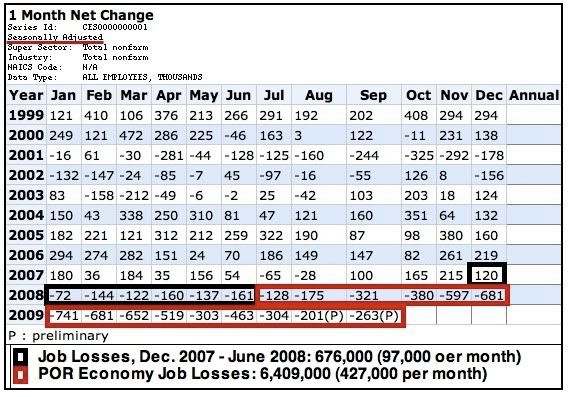 As a reminder, the supposedly recessionary months of December 2007 through June 2008:
Were marked by average job monthly job losses of 97,000, including December 2007, which shows +120.000.
Showed combined growth of an annualized +0.8% after the comprehensive revision of Gross Domestic Product (-0.7% in the first quarter of 2008, +1.5% in the second). Also, December, the month when the recession allegedly began, according to the National Bureau of Economic Research (NBER), was the last month of a quarter where revised economic growth was an annualized 2.1%.
Were characterized, as the pinheads at the NBER themselves said, as a period where "estimated monthly real GDP reached one peak in January 2008 and another, higher peak in June 2008." Yet it was supposedly a recessionary period. Give me a break.
In the 15 months of the POR (Pelosi-Obama-Reid) Economy, which is now the POR Recession/"Repression" As Normal People Define It, seasonally adjusted job losses have totaled over 6.4 million, averaging 427,000 monthly.