Note: This post originally went up before 9 a.m. this morning, but has been carried to the top. It will stay at or near the top for the rest of the day because of its relevance.
Thanks to Instapundit for the link, and to Michelle Malkin and Doug Powers for the tweets.
_________________________________
Organizing For America's nationally-orchestrated, last-ditch, get-out-the-vote campaign in NY-23 is a privacy-invading and potentially dangerous effort.
NY-23 residents should be aware that because of a pervasive lack of controls in OFA's get-out-the-vote operations and a poorly designed campaign:
The person calling them could be a potential spammer, thief, or even a violent criminal.
That person will be asking for personal information that no one should be willing to give out, including but perhaps not limited to personal e-mail addresses, cell phone numbers, and the time of day voters plan to vote.
OFA may be unable to track down persons who call on its behalf if unauthorized, illegal, or criminal acts occur as a result of information learned during this campaign.
If you're on the home page, click "More" to read the detailed post.
* * * * * * * * * * * *

As a dutiful, involved "member" of Organizing For America (OFA), I received this e-mail from my good buddy Mitch Stewart Sunday afternoon (red box is mine):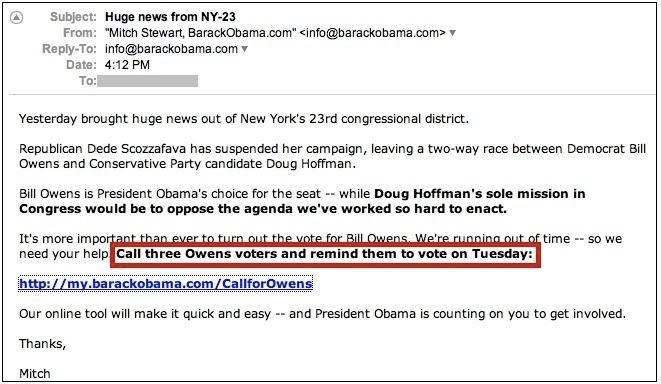 Well, since Mitch told me I'd only need to "call three voters," of course I clicked on the e-mail link so I could make the calls.
When I did, I saw this (names have been concealed to protect privacy):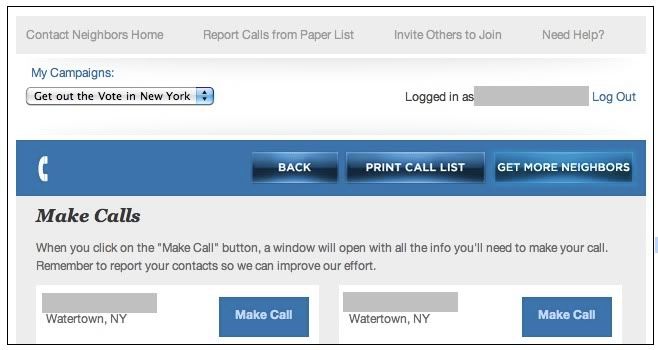 The full list had twenty-five voters' names and phone numbers (I'm not kidding).
That's quite an imposition, Mitch, even on a long-time associate.
But okay, anything for the cause. I'll have to remember to ask Mitch later whether he threw this on me because he's having a hard time finding fellow OFAers willing to make three phone calls.
Since I tend to work better from a paper list, I chose the link's "Print Call List" option. This action generated a print-ready web page. The top portion of it looked like this (red boxes are mine; lines within the document represent breaks in the text; some text was omitted to preserve space):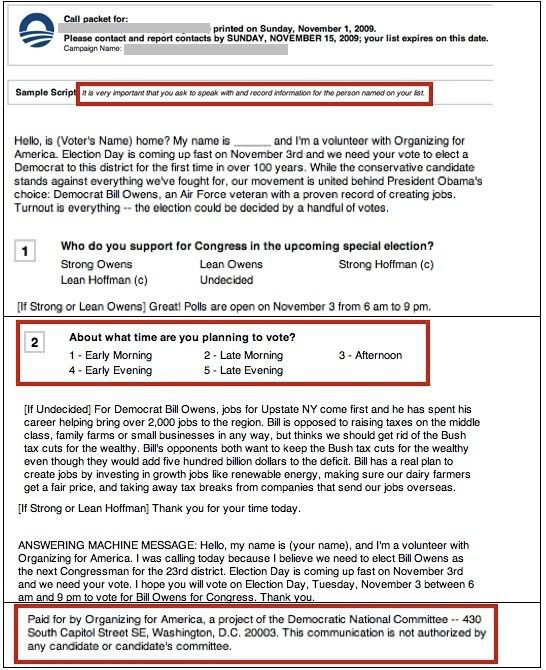 Note that they are asking when a person plans to vote.
Below the instructions were the twenty-five detailed listings. Here is what the first four looked like (click to enlarge in a new window; names and phone numbers are concealed; the first listing is an example, not an actual person; red boxes are mine):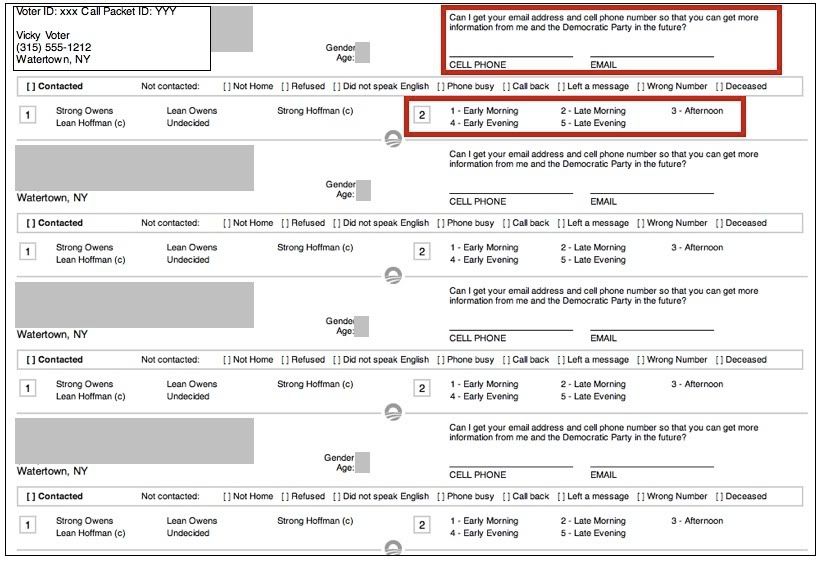 The red boxes are around questions asking for the person's e-mail address and when they plan to vote.
So, now yours truly, a perfect stranger from outside of New York's 23rd Congressional District, knows the Name, Phone Number, Age, and Gender of 25 residents of NY-23.
Because the e-mail I received is part of a large orchestrated campaign, an undetermined but far from small number of perfect strangers predominantly from outside of New York's 23rd Congressional District will know this information about hundreds — if not thousands — of residents of NY-23.
Additionally, if I were to carry out the calls (which I of course will not), I would have the cell phone number, e-mail address, and planned voting time of any person in the group of 25 who responds to my request for that information.
It doesn't take much imagination to see what could happen, but I guess I need to draw a picture for old Mitch:
With a person's e-mail addy and cell number, a spammer can put them on every junk mail and calling list there is.
Thanks to Internet phone directories, criminals can do reverse searches on phone numbers and learn where these people live. By asking a few additional questions, they can learn who lives alone. If they also learn when they won't be home (i.e., out voting) and live reasonably close, they can steal them blind while they're away.
Even more scary, a violent criminal can use answers to OFA's official questions combined with other information they might learn through probing to commit violent acts when these people ARE home.
Of course, some of this can happen any time people get access to a call list. But most similar political efforts are carried out locally at the grass-roots level by people who largely know each other. These efforts don't typically involve knowing someone's age, and almost certainly don't involve intrusions like asking for e-mail addresses and cellphone numbers.
OFA has no effective controls over the type of people it is engaging to make calls on its behalf. It doesn't even necessarily know who they really are. As far as I can tell, anyone can provide a false name to OFA, set up an e-mail address, provide a bogus phone number (or someone else's), become a NY-23 caller, and do whatever they want with the info they gather.
What's more, the average age of the 25 people on my list was 75, including someone listed as being 109 years old, along with several others listed as being over 90.
So here's the exit question: If OFA is working from a list of registered voters, is it hoping, once it receives reports from its callers, to find out who among them is no longer among us — so they can find someone to vote on their behalf?
____________________________________________
UPDATE: Gateway Pundit's post on Patrick Gaspard's involvement in NY-23 makes the concerns expressed above less difficult to imagine.
UPDATE 2: Thanks to a commenter's nudge, I looked at the online form an OFA caller would complete after a call (boxes added by me; click to enlarge) –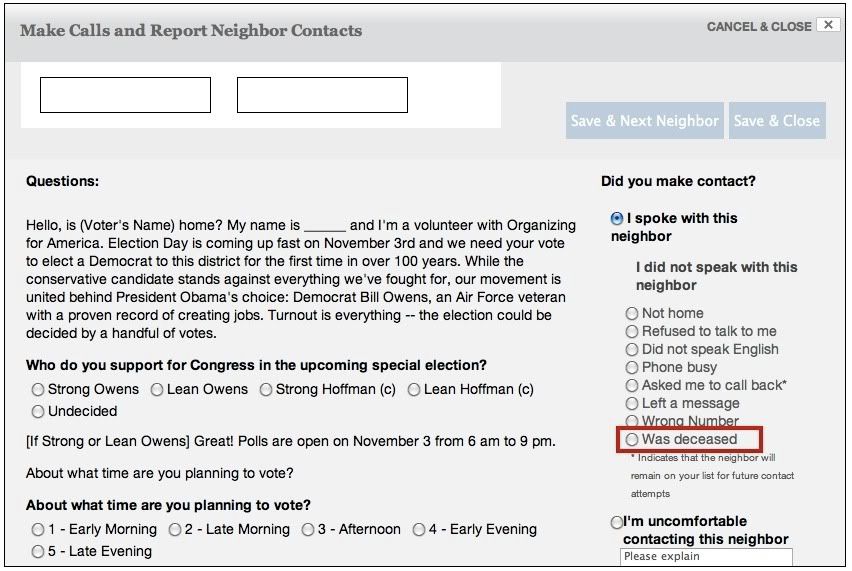 Note the presumptuous "neighbor" language. More importantly, note the instant feedback OFA could receive that person is deceased.
_________________________________________________________
UPDATE 3: A reminder — OFA, in its previous incarnation as Obama for America, had lots of experience working with anonymous people, especially in taking their campaign money, deliberately leaving no tracks.