POR (Pelosi-Obama-Reid) Economy Cash Crunch Update (sources: Last Daily Treasury Statements of Oct. '09, Oct. '08, and Oct. '07; Monthly Statement for Oct. '08):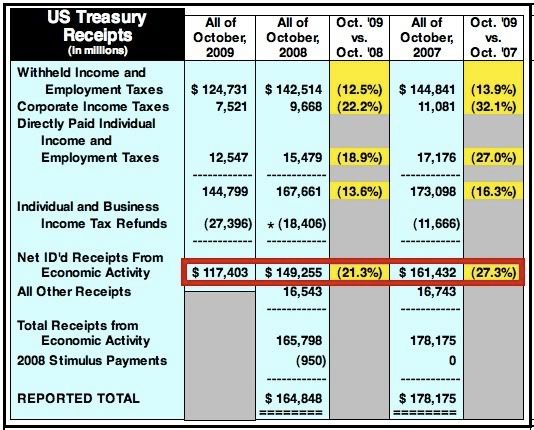 October 2007 was the first month of the 26th consecutive quarter of economic growth in the Bush 43 Economy. October 2008 was the fourth full month of the POR (Pelosi-Obama-Reid) Economy, also known as the POR Recession/"Repression" as Normal People Define It. October 2009 was the 16th full month of the POR Economy, and the fourth full month of the current alleged "recovery" after the third quarter's government-driven "positive" GDP report.
Some "recovery."
__________________________________________
The ousting of Rhine McLlin as Dayton's mayor is a big relief, based on information that came to me totally out of the blue at a business meeting a couple of weeks ago. The person I spoke with seemed to have no axe to grind, and in fact, based on previous conversations, is firmly on the left.
I can't prove what this person asserted, which is why I must keep it vague, but it was relayed to me so casually it was as if everyone in Metro Dayton with a pulse knows it. I'll betcha that at least one alleged journalist at the Dayton Daily News knows exactly what I'm referring to, and a) hasn't ever investigated it; b) has kept the paper's management and Editorial Board in the dark about the situation, allowing it to issue one of the most pathetic political endorsements ever (HT Return of the Conservatives).
One thing I hope new mayor Gary Leitzell considers, if legally feasible, is rehiring still-interested city employees illegally fired by McLin for living outside the city (posts from 2007 on the topic are here and here). McLin's authoritarian actions occurred long after state legislation ended residency requirements for city/county jobs, and long after it became obvious that the courts would uphold it.
_______________________________________________
Polipundit notes that the GOP victory margins in the NJ and VA governors' races were greater yesterday than they were in 1993, when there was a similar negative reaction to the first 9-1/2 months of Bill Clinton's administration.