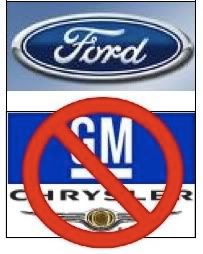 Well, it only took them the better part of a year to pick up on what yours truly first noted in early February (at NewsBusters; at BizzyBlog), and what anyone with eyes has surely known for months. But the Associated Press has finally acknowledged it — or at least it's the first time I've seen the wire service do so.
In the eighth paragraph of their article covering October's auto sales, AP reporters Tom Krisher and Dee-Ann Durbin recognized part of the reason — and perhaps the most important reason — why Ford has been cleaning the clocks of General Motors and Chrysler all year long:
Ford has benefited from consumer goodwill because it didn't take government bailout money or go into bankruptcy protection, as General Motors and Chrysler did.
Though October seems at first glance to have turned out somewhat differently than the first nine months of the year for Detroit's sort-of Big 3, that really isn't the case:
Yes, GM scored its first year-over-year improvement in 21 months (+5.6%), but that was after a 45% year-over-year decline in October 2008.
GM's unit sales increase in October over September, which was marred by a post-Cash for Clunkers hangover, was only 13.5%. The analogous gains at both Ford and Toyota were over 20%.
Chrysler only eked out a 5.8% improvement from September to October, and has been consistently selling fewer than 70,000 vehicles per month.
GM is overdosing on buyer incentives, which the AP pair said averaged $4,100 per vehicle. Though I don't have specific comparables for the competition, Edmunds reports that industrywide incentives were on average far lower. GM's profitablity has to be suffering (more likely it is hemorrhaging cash), unless its Chinese operations are somehow propping up North America.
Ford reported a profit of almost $1 billion in its most recent quarter. GM and Chrysler should be reporting results soon — I think. GM passed on telling us what happened in the quarter that ended in June, but promised that it would issue full-blown financials covering its emergence from bankruptcy through September 30, even though (brace yourself) it said that as "a private company," it doesn't really have to. Chrysler's results will my be incorporated into the financial statements of minority owner Fiat, and depending on how presented may or not be readily separable from Fiat's other worldwide operations.
Regardless of which financial numbers if any get released, the unit sales numbers tell us all we need to know. Ford is heading up, while GM and Chrysler are tumbling down. Either the Obama administration and its car czars failed to consider the possibility of public rejection of the companies once they received federal money and went through bankruptcies, or they didn't care and went ahead anyway. At least $81 billion later (much more if the bailout at GMAC is considered, as it should be), here we are.
Media coverage of the full extent of already recognized and possible additional taxpayer losses has rarely escaped the business pages, even though the decisions involved in "saving" the two companies were mostly if not entirely political.
Cross-posted at NewsBusters.org.