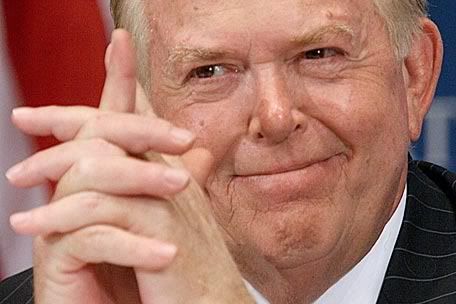 As noted earlier today (at NewsBusters; at BizzyBlog), yesterday's resignation from CNN by Lou Dobbs was his second during a storied career there. The first was at least partially driven by clear tensions between Dobbs and CNN head Rick Kaplan, a longtime friend of former president Bill Clinton who arrived at the network in 1997.
That Kaplan was driven to protect Clinton, and to risk journalistic integrity while doing so, is virtually beyond dispute. In 1997, as the Wall Street Journal's Dorothy Rabinowitz noted in a 1999 op-ed whose primary purpose was to comment on the significance of "the demolition of CNN and Time's story charging that U.S. forces used the lethal gas sarin to attack American defectors in Laos," U.S. News reported that Kaplan "issued a warning to CNN journalists to limit the use of words like 'scandal' in relation to stories on the president's fund-raising ventures."
So you can imagine how beside himself Kaplan must have been when Dobbs, then the host of a business and finance show, went after the Chinese nuclear espionage story in 1999 while his other CNN colleagues and the Big 3 networks were attempting to downplay and ignore it. Brent Baker's CyberAlert from March 12 of that year has the details:
One network VP this week did make the Chinese espionage a big story on his show. As noted in the March 11 CyberAlert, CNN VP Lou Dobbs anchored Tuesday's Moneyline NewsHour live from Los Alamos. Since the MRC does not normally tape or watch this 6:30pm ET CNN business news show we are indebted to CyberAlert reader Dev Anand of California for bringing it to our attention.

…. Dobbs devoted the first half of the show to five stories about the subject plus interviews with Energy Secretary Bill Richardson and former Secretary of State Henry Kissinger.

Dobbs opened the show: "Good evening. This is the Los Alamos National Laboratory. It is also ground zero in what is arguably the most alarming nuclear espionage scandal in nearly 50 years, certainly since the Rosenbergs. What has been stolen is a sophisticated miniaturized warhead technology. And this is the building, this building behind me — the administration complex here at the national laboratory — where the Taiwanese-born Chinese-American worked, who has been fired under suspicion for years of passing on the design of that sophisticated technology. But the growing scandal involves more than one man suspected of betrayal and espionage."

In the first story of the show Bill Dorman played a soundbite of Al Gore insisting the administration vigorously pursued the security problem, but countered: "But that pursuit was neither immediate nor vigorous. A report by the Government Accounting Office, obtained by CNNfn, laid out security questions surrounding national laboratories long before the Clinton administration took action last year. In September 1997, the GAO wrote in 61-page report, quote 'The risk that classified or sensitive information may be compromised through foreign espionage is real and has been longstanding.' The report goes on to say there have been espionage activities against Department of Energy labs in the 1980s and the 1990s. Details of the incidents remain classified. But even after learning of that history, the Clinton administration was not quick to act…."

Later in the program reporter Casey Wian examined the close relationship between lab officials and the Chinese government, revealing: "In fact, documents show Los Alamos officials took 11 trips to China in 1995 and 1996. Several took place during the time when then Energy Secretary Federico Pena assured Congress there were no ongoing discussions about nuclear weapons matters."
Two months later, Dobbs and Kaplan had an infamous dust-up that spilled over to the airwaves over Kaplan's insistence that a Colorado speech by Bill Clinton be covered as "breaking news." In early June 1999, Dobbs resigned.
Meanwhile, as Baker reported throughout the next week, the Big 3 networks and CNN sought to minimize the story's significance and to turn in into a "Republicans attack" story. An example:
"The charge that Mr. Clinton is soft on China is red meat for conservatives," asserted (ABC's) Linda Douglass.
Douglass, not surprisingly, is now an Obama apparatchik.
The press in 1999 also gave the la-la treatment to the possibility of any connection between the technology transfer and laundered political contributions that likely had Chinese origins, as Baker noted on March 19:
Are journalists skeptical and cynical? Supposedly so, but not so far on the China espionage scandal where the supposedly leery media in Washington are willing to give Clinton's team the benefit of the doubt about the suggestion that campaign contributions from China may have impacted policy decisions.

…. MRC analyst Jessica Anderson caught this from Los Angeles Times Washington Bureau Chief Doyle McManus:

"At this point, no solid connection has been established between, between these events — this espionage investigation and either the campaign finance scandal of 1996 or President Clinton's visit to China in 1998 or any of the policy events in between. What Republicans and the opponents of the Clinton Administration's policy are using is, in effect, the coincidences of the calendar."

I don't recall this reticent approach during Iran-Contra. Reporters then didn't assume that arms went one way and money another because of "the coincidences of the calendar."
Dobbs at the time was clearly throwing sand in the propaganda wheels. No wonder he ended up leaving, and not returning in 2001 after Kaplan had himself departed.
Cross-posted at NewsBusters.org.