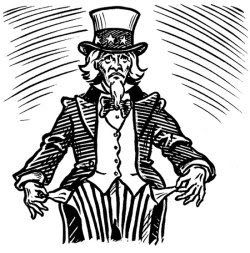 It might seem odd, given its content, that I'm about to criticize yesterday's Associated Press report on the deficit.
After all, AP business writers Martin Crutsinger and Daniel Wagner did give us the facts about Uncle Sam's October Monthly Treasury Statement, put them into historical context, and told us that we face $1 trillion-plus shortfalls in fiscal 2010 and 2011.
But the pair missed a couple of receipts-related items that would have hit readers right between the eyes if noted, and would have indicated just how dire the government's financial situation has become.
The first omission: Collections of corporate income taxes were negative, as the government paid out an astonishing $4.5 billion more in refunds to corporations than it collected. The second: In a month mostly unaffected by individual estimated payments (these are normally paid in April, June, September, and January), year-over-year collections of individual income taxes were down by 29%.
Here are the key paragraphs from Crutsinger's and Wagner's coverage:
Federal deficit sets October record of $176.4B

The federal deficit hit a record for October as the new budget year began where the old one ended: with the government awash in red ink.

Economists worry that if such deficits continue it could push up interest rates, further dragging on the fragile economic recovery.

The Treasury Department said Thursday that the deficit for October totaled $176.4 billion, even higher than the $150 billion imbalance that economists expected.

The deficit for the 2009 budget year, which ended on Sept. 30, set an all-time record in dollar terms of $1.42 trillion. That was $958 billion above the 2008 deficit, the previous record holder.

October was the 13th straight month to show a monthly deficit – another record. It was the fifth-largest monthly deficit ever.

The imbalance came mostly from lower receipts of individual and corporate taxes. Receipts were $135.3 billion, a 17.9 percent drop from last October.

Spending dipped 2.7 percent to $311.7 billion. Last October's outlays were inflated by the $33 billion spent on the first round of financial bailouts at the peak of the financial crisis.

The Obama administration expects this year's deficit to reach $1.5 trillion. That would make it the third straight record annual deficit.

….. Treasury Secretary Timothy Geithner, on a visit to Tokyo on Wednesday, told reporters that "as growth recovers and strengthens, we're going to bring our fiscal positions back to a sustainable balance."
Here is how October 2009′s raw receipt and refund amounts compared to October 2008 and 2007: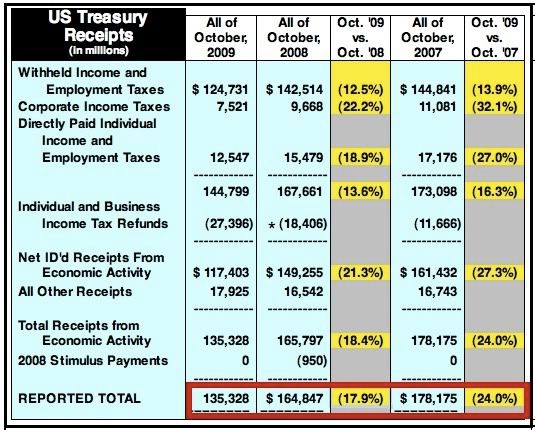 If you think that's scary, look at how the individual line items came out once refunds were netted out against collections: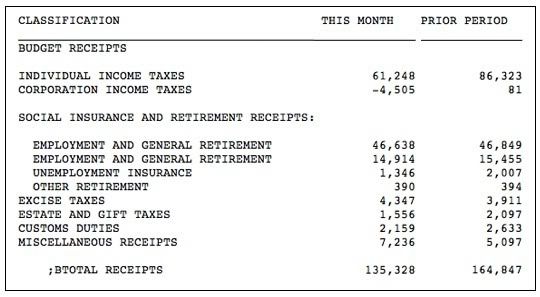 The individual income tax collections drop above is 29%. Though it has probably previously occurred at least once during past decades, I haven't see a net corporate refunds number in the four-plus years I have been closely following federal fiscal finances.
As fact-filled as the AP pair's report is, here's the bigger uncommunicated picture:
The nosedive in receipts shows no signs of abating. In key areas, it is still accelerating.
Meanwhile, spending seems destined to remain at or above $300 billion a month.
If the collections and spending trends continue for even another few months — and there's little reason to believe they won't — the full-year deficit estimate cited by AP will be severely understated, and hopelessly outdated.
Thus, I think Crutsinger and Wagner owed readers a bit more than they provided.
Finally, if the cash normally generated by economic growth isn't coming in, you have to wonder how legitimate Tim Geithner's assumption that we are currently experiencing sustainable growth really is.
Cross-posted at NewsBusters.org.