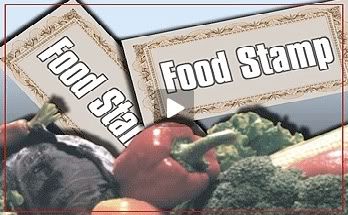 The New York Times's Jason DeParle and Robert Gebeloff published a long Saturday report on the Food Stamp program that went into print on Sunday.
This is the second of three posts on their coverage; the first went up earlier today at NewsBusters and BizzyBlog. It addressed the pair's seeming happiness with the massive increase in program participation, their apparent unhappiness that 15-16 million who could be getting Food Stamps aren't, and their sense of relief that the "stigma" attached to being on a form of government dole has significantly dissipated.
This post will deal with something that should have been right in front of the Times pair's faces: Even before considering loosened eligibility standards (the third post will deal with that), Food Stamp benefits (gross and net) have increased by much more than the rate of food inflation during the past couple of years, especially in the past year, during which the increase in net benefits has been a whopping 30%.
Here are a few article excerpts from the Times report that deal with benefit levels (the first excerpted paragraph originally appeared in between the two other sets of paragraphs presented):
Now nearly 12 percent of Americans receive aid —

28 percent of blacks, 15 percent of Latinos and 8 percent of whites. Benefits average about $130 a month for each person in the household, but vary with shelter and child care costs.

…. With most of his co-workers laid off, Greg Dawson, a third-generation electrician in rural Martinsville, considers himself lucky to still have a job. He works the night shift for a contracting firm, installing freezer lights in a chain of grocery stores. But when his overtime income vanished and his expenses went up, Mr. Dawson started skimping on meals to feed his wife and five children.

He tried to fill up on cereal and eggs. He ate a lot of Spam. Then he went to work with a grumbling stomach to shine lights on food he could not afford. When an outreach worker appeared at his son's Head Start program, Mr. Dawson gave in.

"It's embarrassing," said Mr. Dawson, 29, a taciturn man with a wispy goatee who is so uneasy about the monthly benefit of $300 that he has not told his parents. "I always thought it was people trying to milk the system. But we just felt like we really needed the help right now."

…. Sarah and Tyrone Mangold started the year on track to make $70,000 — she was selling health insurance, and he was working on a heating and air conditioning crew. She got laid off in the spring, and he a few months later. Together they had one unemployment check and a blended family of three children, including one with a neurological disorder aggravated by poor nutrition.

They ate at his mother's house twice a week. They pawned jewelry. She scoured the food pantry. He scrounged for side jobs. Their frustration peaked one night over a can of pinto beans. Each blamed the other when that was all they had to eat.

"We were being really snippy, having anxiety attacks," Ms. Mangold said. "People get irritable when they're hungry."

Food stamps now fortify the family income by $623 a month, and Mr. Mangold, who is still patching together odd jobs, no longer objects.

"I always thought people on public assistance were lazy," he said, "but it helps me know I can feed my kids."
This chart of gross and net benefits for fiscal years beginning October 1, 2007, 2008, and 2009 tells the story (data sources identified below):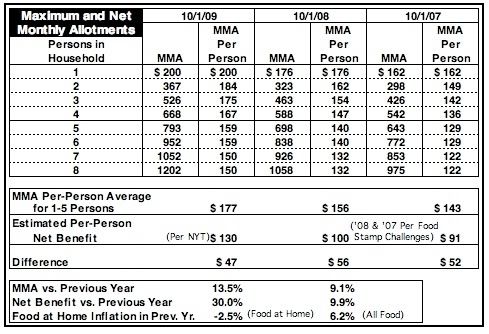 The Maximum Monthly Allotment is the USDA's term for the gross benefit. It is what an individual or household receives if there were no other resources available as determined under program eligibility rules for that person or household to pay for food. October 1, 2009 figures are at the USDA's site. Previous posts documented the MMAs as of October 1, 2008 and 2007, respectively. Note that 2008 benefit levels corresponded very closely to what the USDA considers the cost of its "Thrifty Meal Plan" budget.
The Net Per-Person benefit is an estimate sourced as follows:
As of October 1, 2009, it is the $130 the Times pair cited in their report.
For the previous two Octobers, it is the $23 and $21 per-week average benefit cited by the purveyors of the "Food Stamp Challenge" converted into a monthly amount.
The Net Per-Person benefit is the result of subtracting resources deemed available to pay for food. The general rule is that 30% of beneficiaries' "net monthly income" — an amount that is determined, as seen at the same USDA fact sheet, only after deducting several items from one's income or net pay — is expected to be available to pay for food.
The food inflation figures came from the Bureau of Labor Statistics as of September 2009 and September 2008. Although annual MMA benefit adjustments are actually based on a slightly earlier 12-month span than identified here, the points being made here wouldn't substantially change.
Based on the figures presented, it's pretty darned obvious that gross benefits have ratcheted up significantly, while the average deductions against MMA/gross benefits have actually shrunk a bit. The 2007-2008 change was not much different than real food inflation, and may have matched it pretty closely if the adjustment was based on a mid-summer 2007-2008 measurement. But the 2008-2009 increase is off the charts, even though the cost of food eaten at home has gone down.
Most of the 2008-2009 increase actually took effect six month earlier in April as a result of the stimulus package passed in February. A Massachusetts social services site has the details. 
Times reporters DeParle and Gebeloff never mentioned that the increases were stimulus-driven in their report; in fact, they didn't discuss year-over-year increases at all. They never considered that the 30% higher benefit levels might be drawing more government dependents into the program. They never addressed why, if previous benefit levels were sufficient under a thrifty meal plan approach, taxpayers should be expected to pay for what is now clearly more than that.
The Food Stamp program has apparently morphed from an "eat well, but watch your pennies" approach to "eat as you're used to eating (or close to it)" design without one iota of notice or debate. Heritage's Robert Rector, who told the Times that the program has devolved into something that is "really not different from cash welfare," is at least partially vindicated.
But it's even worse than that. Earlier this year Ohio's Warren County exposed how liberalized eligibility rules are allowing many households who reasonable people would contend have no right to receive Food Stamp benefits to get them. That, and journalistic errors the Times committed in reporting it, will be the subject of Part 3.
Cross-posted at NewsBusters.org.