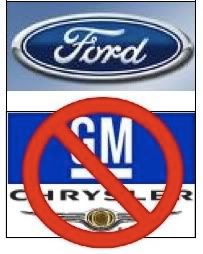 In their report on Ford's November sales results, the Associated Press's Tom Krisher and Dee-Ann Durbin seemed to downplay the company's pretty decent month, and definitely downplayed the company's better near-term prospects compared to its principal rivals. Additionally, despite the report's Wednesday time stamp, the pair didn't update the item's content to compare Ford's performance to its competitors.
Via the Wall Street Journal, here is the detail for Ford and the others:
General Motors — 150,305 units sold, down 1.5% from November 2008.
Toyota — 133,700 units, up 2.6%.
Ford — 118,215 units, down 0.1%.
Honda — 74,003 units, down 2.9%.
Chrysler — 63,560 units, down 25.5%.
Nissan — 56,288 units, up 20.8%.
Here are excerpts from Krisher/Durbin's work; wait until you see what the Krisher and Durbin saved for their last paragraph (bolds are mine):
Ford's November sales steady
1 day ago

Ford Motor Co. said Tuesday U.S. sales held steady in November as buyers snapped up fuel-efficient cars and crossovers, a sign that the market for new vehicles remains on a path to recovery.

Ford's sales were essentially flat compared to last November, at 122,846. But sales of crossovers rose 26 percent and sales of cars rose 14 percent. Trucks and SUVs saw double-digit declines. Other automakers are reporting sales on Tuesday.

…. But carmakers continued to rely on discounts and other incentive spending to move inventory. Sales incentives rose 2 percent in November to $2,713 per vehicle, according to the auto Web site Edmunds.com.

Small monthly auto sales increases are likely as the economy continues its slow improvement, but larger auto sales gains will not happen until the unemployment rate drops substantially, and people feel confident spending money on big-ticket items, said Martin Zimmerman, a former Ford Motor Co. chief economist who now teaches at the University of Michigan.

…. Ford said its hybrid sales increased 73 percent, to 2,361, as buyers gravitated toward gas sippers. At about $2.65 per gallon, regular gasoline is up around 50 cents over November of last year.

The Ford Fusion sedan, which leads the mid-size category in fuel-efficiency at 34 miles per gallon, posted a 54-percent increase from last November, shattering its previous record for full-year sales.

…. Ford showed some optimism for the coming year, increasing first-quarter production plans by 58 percent to 550,000 vehicles. Its fourth-quarter production plan is unchanged.
Points:
The fact that about 900 buyers "gravitated" towards hybrids at a company that sells over 100,000 vehicles a month is hardly worth reporting.
The incentives figure cited is for all companies. The incentives at Ford were actually about 15% higher, which despite the generally good news out of Dearborn is probably not a good thing.
Here's a question no one seems to be asking — Are buyers going to fuel-efficient cars and crossovers because of gas prices, or are they hurting so badly financially that they can't afford anything better?
Finally, when's the last time you saw a planned 58% increase in production described as an expression of "some optimism"? If Ford keeps that up during all of 2010, it will produce about 1.9 million units after taking shutdowns and holidays into account. That would lead one to believe that Ford is anticipating double-digit increases in unit sales next year, which starkly contrasts with the overall "on the path to recovery" picture painted by Krisher and Durbin.
Does anyone think that government/union-controlled GM or Chrysler are planning big production increases next year?
Cross-posted at NewsBusters.org.