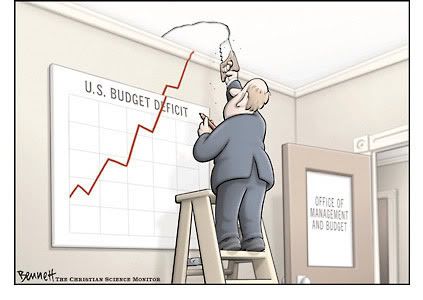 In his coverage

of Uncle Sam's November Monthly Treasury Statement released yesterday, the Associated Press's Martin Crutsinger reached the wire service's usual quota of errors and misstatements. But what's remarkable is that the AP reporter's article seems to betray a belief that the country is still in a recession. Fascinating.
Along the way, Crutsinger omitted the fact that November's deficit came in a bit higher than the Congressional Budget Office estimated several days ago, failed to report that receipts from corporate income taxes went negative for the second month in a row (i.e., refund checks issued exceeded cash collections), and betrayed more than a little lack of understanding of how the government has chosen to account for the Troubled Asset Relief Program (TARP).
Here are selected paragraphs from the AP report:
The federal deficit for the first two months of the new budget year is piling up faster than last year's record imbalance.

….. The November deficit totaled $120.3 billion, the Treasury Department said Thursday. That's less than analysts had expected and down from a $176.4 billion imbalance in October. It was a record 14th straight monthly deficit.

Even with the improvement, the deficit is 5.7 percent higher than the first two months of the 2009 budget year when it hit a record $1.42 trillion. The Obama administration expects the 2010 deficit will set a new record at $1.5 trillion.

In a sign of the recession's depth, the government said individual income tax collections totaled $63.9 billion in November, less than the $70.5 billion the government collected in Social Security taxes and taxes for Medicare and disability insurance programs.

Analysts said it is not unusual for individual income taxes to fall sharply during a recession because the volatile category not only reflects the number of people working, but also bonuses and individual investment earnings that plunged during the downturn.

The amount of revenues that reflect Social Security and Medicare taxes, while down because fewer people are working than a year ago, are not subject to such large swings.

The flood of red ink reflects the downturn's effect (on) the government's books. Both individual and corporate tax receipts have been cut sharply, while government spending on unemployment benefits, food stamps and other programs surged.

In addition, the deficit reflects heavy spending from the $700 billion financial bailout fund to stabilize the financial system, and the $787 billion economic stimulus program to jump-start growth and prevent the Great Recession from turning into another Great Depression.
Here are my comments on the bolded items in order of their appearance:
The reported $120.3 billion deficit may be less than what "analysts" predicted, but it's more than the $115 billion the Congressional Budget Office thought it would be in their Monthly Budget Report last week.
The second and third bolded items refer to the recession as if it's still occurring, and seems to accept the idea that the third economic growth, currently pegged at an annualized 2.8% but subject to a late December revision, was as artificial as observers such as Investors Business Daily have claimed it is.
The item about receipts is interesting on two levels. First, nobody "cut" individual or corporate tax receipts; they just didn't come in, and thus have fallen sharply. Second, corporate income tax receipts have fallen so much that they were negative for the second month in a row, this time by $2.1 billion. October's and November's combined net corporate income tax refund total is $6.6 billion. More to the overall point, if the third quarter economy was so good and we're in the midst of a real recovery, individual income tax collections should also be in the process of recovering. But instead, they went from $61.2 billion in October to $47.9 billion in November (both months mostly do not contain estimated payments from individuals who make quarterly or periodic payments), and on a combined basis are down over 25% from November-December 2008.
Concerning the financial bailout fund's effect on the deficit — Since its inception in early October 2009, the government as a whole has run a deficit of over $1.7 trillion (last year's 1.417 trillion plus this year's $297 billion so far). Crutsinger's writing appears to imply that all TARP money that has been spent out of its $700 billion authorization included in the deficit. In fact, since Treasury values TARP "investments" on a Net Present Value (NPV) basis (explained in detail here earlier this year), only a relatively small percentage of all funds spent are treated as "outlays." His last paragraph says that Treasury "now projects that the losses from the $700 billion government financial rescue fund will be $141 billion over the next decade, $200 billion lower than it forecast in August." If Treasury has actually recognized those losses in its Monthly Treasury Statements (NPV accounting dictates that known and estimated losses should be recorded in the year they are recognized, but it's not at all clear that it has), that $141 billion would be only about 8% of the deficits run up in the past 14 months.
But the most interesting element in Crutsinger's work is his implicit recognition of a still-present recession. Who knew?
Image found at Fine-Tuned Finances.com.
Cross-posted at NewsBusters.org.