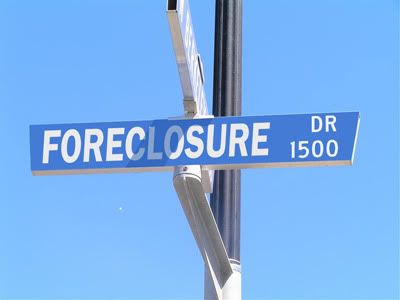 If there's a Ground Zero for America's foreclosure mess outside of much of California and metro Las Vegas, it's probably Cleveland, the Northeast Ohio city known in most of the rest of the state as the Mistake on the Lake.
The Cleveland Plain Dealer's Mark Gillespie got out from behind his desk, committed some good old-fashioned journalism, and went looking for the mistakes that exacerbated the town's breathtaking home foreclosure rate. Lo and behold, he found that city government itself contributed mightily and extraordinarily negligently to the debacle. Go far enough into Gillespie's report, and you will also find an implicit admission that the Community Reinvestment Act (CRA) also played a pivotal role (bold is mine):
How Cleveland aggravated its foreclosure crisis

The city of Cleveland has aggravated its vexing foreclosure problems and has lost millions in tax dollars by helping people buy homes they could not afford, a Plain Dealer investigation has found.

The city provided mostly low-income buyers with down payment loans of up to $20,000 through the federally funded Afford-A-Home program, but did little to determine whether the people could actually afford to keep their homes.

That lack of oversight persisted for years, even as hundreds of loan recipients defaulted on mortgages, many within two years, the newspaper found by analyzing property and loan records covering the period between 2000 and 2007.

For example, nearly half of 584 homes sold by the top three for-profit companies that tapped into the program over the eight years have gone into foreclosure. More than one-third of those homes have sold at sheriff's sale or sit abandoned because banks did not take them back.

….. The loss in Afford-A-Home dollars from failed purchases from Cresthaven Development Corp., Rysar Properties Inc. and Pebblebrook Properties Inc. thus far totals more than $2.3 million.

Presented with the newspaper's findings, city officials acknowledged problems with the Afford-A-Home program and ordered tighter eligibility standards for buyers and sellers.

….. The program is primarily driven by companies that buy, renovate and resell houses. The companies typically seek city approval to sell properties using Afford-A-Home loans before renovations are completed. They are responsible for sending the buyers' Afford-A-Home applications to the city.

A Plain Dealer review of more than 50 Afford-A-Home files found borrowers who, according to their applications, earned as little as $15,000 a year when the city — and mortgage lenders — gave them loans.

One woman, according to a letter in her file, was homeless and living in a car with her children when she got $10,000 from the city. Another couple received food stamps and were jobless when they got an Afford-A-Home loan.

Through 2004, the first-lien mortgages for Afford-A-Home buyers typically came from local banks fulfilling federal requirements to lend money in poorer neighborhoods. The loans carried low interest rates.
Read the whole sickening thing.
The final bolded sentence in the excerpt shows that the CRA was a key element in Cleveland's catastrophe. CRA mandated that banks originating first-lien mortgages extend them to undeserving borrowers, or face brutal challenges to their ability to continue in business during regulators' audits and to other business moves such as mergers and acquisitions. As would be expected, short-term survival instincts overcame sound underwriting. Now, according to leftists, it's the banks' fault for doing what they were intimidated into doing.
But then, proving again that the term "government oversight" is usually an oxymoron, the city agency, even with no similar level of threat looming in the background, doubled down. Even if the apps were submitted by development companies who should have known better or were lying about certain key information (that appears to be the case in two sidebar stories Gillespie relates), that doesn't excuse the complete failure of oversight, and absolutely doesn't justify the program's continuance on auto-pilot for many years despite obvious early-stage problems.
Many in Cleveland still persist on blaming someone else for why the city's foreclosure situation is much worse that the vast majority of other cities in the US. Look in the mirror, guys. Every city's bankers faced similar CRA problems, and to the extent they did what first-lien lenders in Cleveland did, you can hang the blame on Uncle Sam and CRA. But it's Cleveland's residents who elected the people who created the agency that threw federal second-mortgage money at people with apparently little if any concern over whether it would be repaid, ultimately turning entire city blocks into barren wastelands. Though it's a popular claim among lefty bloggers in and around Metro Cleveland (maybe "Metro Mistake" is a more appropriate term), George Bush and the evil Republicans sure as heck didn't do this.
The establishment media-related question is this: How many other cities became similarly involved with this disastrous second-mortgage effort, with similarly disastrous results? I daresay Cleveland's mistakes have been made elsewhere, and more than once. My early nominees for PD-like investigations are Detroit and Chicago. Journalists there ought to get to work.
Cross-posted at NewsBusters.org.