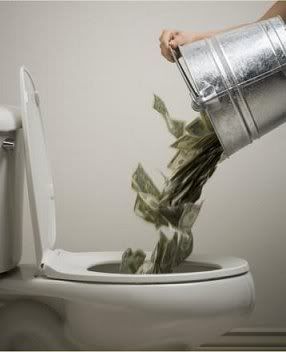 Longtime readers of Associated Press dispatches have long since learned that many of the most important facts of a story — especially facts that put the government, bureaucrats, and leftists in a bad light — are often found in its final paragraphs. This is a way for the wire service to boast that it really did report all important facts while usually ensuring that harried broadcasters and other users of AP content who attempt to digest it down to a couple of sentences will probably will leave the meaty and incriminating stuff on the cutting room floor.
Such is the case with a report on the arrest of dozens of Medicare ripoff artists in various US cities. While the details of the arrests are indeed important, the final three paragraphs of AP writer Kelli Kennedy's report are the real jaw-droppers, especially in the context of the president's and Congress's dogged determination to set a statist takeover of the entire health care system into motion before the end of this year (bolds are mine):
32 accused of $60M in Medicare fraud in 3 states

FORT LAUDERDALE, Fla. — Federal agents arrested 26 suspects in three states Tuesday, including a doctor and nurses, in a major crackdown on Medicare fraud totaling $61 million in separate scams.

Arrests in Miami, Brooklyn and Detroit included a Florida doctor accused of running a $40 million home health care scheme that falsely listed patients as blind diabetics so that he could bill for twice-daily nurse visits.

The U.S. Department of Justice and U.S. Department of Health and Human Services said the indicted suspects lined up bogus patients and otherwise billed Medicare for unnecessary medical equipment, physical therapy and HIV infusions.

Indictments were issued for 32 people in all, but the status of the other suspects wasn't immediately known.

(Final three paragraphs)

Including Tuesday's arrests, a Medicare Fraud strike force formed by the Justice and Health departments has now charged suspects accused of bilking Medicare of more than $1 billion in less than two years.

The pilot strike force, which started in Miami in 2007, has indicted more than 460 suspects in Medicare fraud scams. The program is now in Los Angeles, Houston and Detroit. HHS Secretary Kathleen Sebelius also announced Tuesday the operation will expand to Tampa, Fla., Baton Rouge, La., and Brooklyn.

Cleaning up an estimated $60 billion a year in Medicare fraud will be key to President Barack Obama's proposed health care overhaul. HHS and DOJ have promised more money and manpower to fight the fraud.
So of all the fraud that is occurring, the feds have caught less than 1% of it ($1 billion divided by 2 years divided by $60 billion equals 0.83%).
Beyond that, Kennedy also avoided giving that $60 billion any context. That $60 billion in fraud represents an almost impossible to fathom 12%-plus of all Medicare spending, based on these references:
The 2009 Medicare Trustees' Report said that total Medicare spending in 2008 was $468 billion. $60 billion is 12.8% of that amount.
A May 2009 report (PDF) from the Henry J. Kaiser Family Foundation predicts that Medicare spending in 2009 will be $484 billion. Applied to this number, the fraud rate is "only" 12.4%.
Heck, $60 billion is over 0.4% of the entire country's gross domestic product of $14 trillion or so.
It is highly unlikely that the fraud rate in the private sector, where losses such as these would reduce business income, hurt returns to shareholders, and likely bankrupt any business with controls as apparently sloppy as Uncle Sam's, is anywhere near 12%.
And Medicare is what Democrats and other program advocates cite as the exemplar of why a so-called "public option" would be soooooo beneficial. Yikes.
Hopefully readers will pick up and pass on the lesson: In an AP report, after the headline and the first couple paragraphs, go to the final few paragraphs for the items you need to know, but which most casual news consumers will never read or hear.
Graphic was found at the EverythingHealth blog.
Cross-posted at NewsBusters.org.