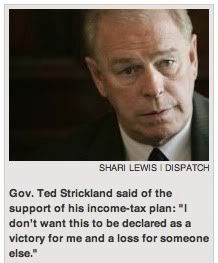 On January 1, 2009, the final 4.2% stage of a four-year, 21% cut in individual income taxes took effect in Ohio. State tax withholding tables reflecting the lower rates went into effect. Ohio employees began seeing a bit more net pay in each paycheck.
This past week, the state legislature, faced with an $850 million shortfall and threats of immediate school funding cuts by Governor Ted Strickland, repealed that 4.2% cut for both 2009 and 2010. Ohioans who had taxes withheld throughout all of this year at lower levels will have to make up the difference when they file their 2009 returns next year. They will also see higher state income tax withholdings from each paycheck all of next year.
Thus, Ohioans will be paying more in income taxes for quite a while longer than they would have if things had been left alone.
But apparently we're not supposed to call this a "tax increase," and a clearly retroactive one at that. No-no-no. According to Strickland, Ohio Democrats, a few alleged Republicans, the Associated Press, and Ohio's compliant establishment media, this is a "tax cut delay." Journalists are going to extraordinary lengths to avoid writing or uttering the words "tax" and "increase" consecutively. Is there a new stylebook rule against doing that?
Here's a roundup of some the reality-avoiding language used:
Associated Press, Steve Majors

Ohio tax cut delay means less for taxpayers

Ohioans will pay more in 2009 taxes than expected because a budget compromise that cleared the Legislature on Thursday night delays the last in a series of tax cuts begun four years ago.

…. For the majority of Ohioans, the tax change means they will have to forgo tax savings of less than $150.

…. The deal resolved what had been increasingly tense negotiations between Strickland and Democratic lawmakers on one side, and Republicans loath to suspend a tax cut on the other.

…. Minority House Republicans opposed the deal because they viewed the tax change as a job killer.

…. "This is a temporary delay. I have no intention of making it anything other than a temporary delay," Strickland said.

++++++++++++++++++

Cleveland Plain Dealer, Aaron Marshall, December 17

Strickland, Senate Republicans and House Democrats reach state budget deal

Gov. Ted Strickland and state legislative leaders struck a state budget deal late Wednesday after a late-night bargaining session.

The deal uses the delay of a 4.2 percent state income tax cut that began in January to plug an $851 million hole in the education portion of the state budget. The budget fix had been proposed by Strickland and approved by House Democrats on Oct. 21 but Senate Republicans had been balking at supporting it for months.

++++++++++++++++++

Cleveland Plain Dealer, Aaron Marshall, December 18

State lawmakers pass state budget; income tax reduction put off

You will end up paying a little more in state income taxes than you would have otherwise.

But Ohio schools are saved from drastic funding cuts, and state universities will construct a few buildings differently, hoping to achieve savings.

That's the bottom line of a state budget deal expected to hit Gov. Ted Strickland's desk today ….

Postponing the cut will reduce the size of the refund that most taxpayers would otherwise expect to receive after filing their taxes ….

…. Senate Republicans voting against the deal labeled it a tax hike.

…. Despite what is shaping up to be a spirited 2010 gubernatorial campaign against former Republican U.S. Rep. John Kasich of Columbus, Strickland said he isn't worried about being labeled "Tax Hike Ted" for leading the fight to delay the income tax cut.

++++++++++++++++++

Dayton Daily News, Laurie Bischoff, December 17

State lawmakers reach deal to patch budget

State lawmakers on Thursday, Dec. 17, agreed on a deal to patch an $851 million hole in the budget and avert massive cuts to 600 school districts serving 1.8 million students.

"I think this is a victory for Ohio. I think it's a victory for our schools," Gov. Ted Strickland said.

The agreement delays a 4.2 percent income tax rate cut — scheduled to take effect this year — until 2011. Ohioans will pay $851 million more in income taxes over the next two years.

++++++++++++++++++

Columbus Dispatch, Jim Siegel, December 18

Budget deal sealed after late-night debate
Schools saved from further pain, but tax cuts postponed

Schools, libraries and other social services will not face further cuts, but many Ohioans will either pay more or get back less when they file their income taxes next year under a contentious plan to fix the $851 million budget shortfall.

State lawmakers gave final approval late last night to delaying for two years the 4.2 percent income-tax cut that took effect in January.

…. Democrats call it a tax rate freeze. Republicans called it an increase that, considering the multibillion-dollar projected budget in 18 months, is unlikely to be only temporary.

…. Income-tax withholdings in 2009 were set assuming the income tax cut would remain, so most taxpayers have withheld too little, meaning they will owe money to the state or get smaller-than-expected refunds when they file returns in the first quarter of 2010.

++++++++++++++++++

Toledo Blade, Jim Provance, December 18

Deal reached to patch hole in Ohio schools budget
GOP yields crucial 5 votes to delay cut in income tax

Forget that latest income tax cut you've seen in your paychecks for the last 11 months.

Lawmakers and Gov. Ted Strickland yesterday broke a long-awaited deal to patch an $851 million hole in the state's education budget by delaying for two years the final 4.2 percent installment of a total 21 percent cut set in motion in 2005.

…. With withholding rates largely having run their course for the year, the state expects to recoup roughly $844 million to apply to the $851 million hole when taxpayers file their returns next spring, with many getting smaller refunds than expected.

…. House Minority Leader Rep. Bill Batchelder (R., Medina) called the tax adjustment a "job killer" that would hit many small businesses particularly hard.

"This tax is retroactive, going back to the first of the year that we're in now," he said. "The first of 2009 nobody knew they had to pay this tax."

++++++++++++++++++

Marietta Times, Evan Bevins, December 19

Tax cut delay hits 2009 returns

Thursday's approval of Ohio Gov. Ted Strickland's plan to delay a tax cut will cost a majority of residents less than $70.

For the 20 percent of taxpayers making more than $76,000, the difference will be in the three- or even four-digit range.

The Ohio Senate narrowly approved the proposal Thursday as a way of filling an $850 million hole opened in the upcoming budget when a court challenge put Strickland's plan to allow video slot machines at state horse-racing tracks on hold.
As far as I can tell based on this Google News Search (on "Enquirer Strickland tax," not in quotes) and searches at the paper's own site, the Cincinnati Enquirer only ran the AP's report and had no original coverage of its own. I also found no original coverage at the Akron Beacon Journal.
Mr. Bevins at the Marietta Times let his journalistic peers down by showing an accompanying chart that got as close as anyone to using the dreaded term (red box is mine):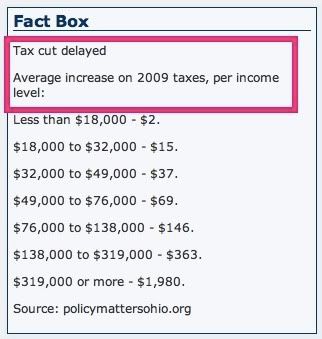 He could have avoided this near miss by describing the tax increases as "Average additional amounts paid" or something similar. Get with the program, Evan.
Oh, and one more thing. The state collected about $7.6 billion in personal income taxes during the fiscal year that ended in June. The $844 million in additional collections "when taxpayers file their returns next spring" noted above by the Toledo Blade's Provance thus represents a retroactive 2009 tax increase of roughly 11%. I found no media outlet that mentioned the true double-digit nature of this increase.
Cross-posted at NewsBusters.org.