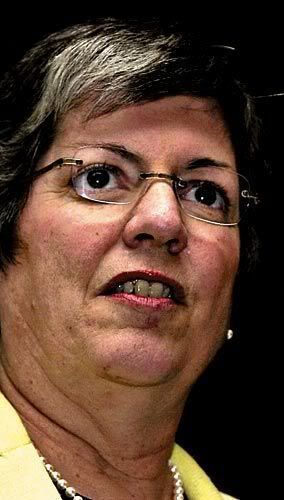 At Politico (HT Hot Air Headlines; video at RCP):
DHS Secretary Janet Napolitano said that the thwarting of the attempt to blow up the Amsterdam-Detroit flight this week demonstrated that "the system worked."
Babe, that's not what "worked."
The only thing that "worked" is Jasper Schuringa, and he's the one person in the whole affair (with an assist from the flight attendants and other passengers) who isn't part of "the system."
P.S. It makes you long for the glory days of Michael Chertoff, pathetic as he was.
P.P.S. Jonah Goldberg (HT Instapundit) — "Fire Napolitano." The gal apparently has no interest or even curiosity about how the Flight 253 takedown attempt could or should have been prevented. Her entire focus is after-the-fact. That's unacceptable.
Y'know, if they improved the prevention, they wouldn't "have to" impose lunatic rules that are meant for unruly second-graders on every international traveler. They have to know this will accomplish nothing; it's just a response for response's sake.
P.P.P.S. Rand Simberg — "It's ironic that on the day commemorating the birth of a lone man who was supposed to die for all of our sins, a little over two millennia later, we are now going to all have to suffer for the sin of another lone man."
P.P.P.P.S. Michelle Malkin — "The 'system,' like Napolitano, was an epic fail. …. her hapless first-responder mentality is simply a reflection of the man who hired her."