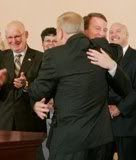 Great…Secretary of State Samsonite spreads the dysfunction (via an emailer):
In what must be a part of some quid pro quo deal (help me in Clermont, I'll help you wherever), Rob Portman wrote a shining letter of support to the Clermont County Republican Chairman on behalf of Jon Husted, who then sent copies to the Committee with his "endorse me even though I've never been to your county" request.

Why? Because the Clermont County Republican Committee endorses in a few weeks, and if anyone on the committee actually knows Jon Husted, they are skeptical at best.

He is running for Secretary of State, the office charged with enforcing the very election laws whose spririt he broke.
Until they started shielding him as State Senator, he voted for every budget & tax increase passed (including the CAT).
He did not attend Clermont's Lincoln Day last year because he was not given the microphone.

So what's our motivation here?
Sigh…clearly Rob hasn't been paying attention.
For the record, I don't personally dislike Jon Husted, and to his credit, he rocks on school choice. Kevin DeWine will be shocked to know, however, that I am not a one-issue voter (eyeroll). I do think it's crucial to point out glaring concerns that people have so that everyone knows what they're in for…so that we don't have to revisit 2006′s purging process again…you know, that whole "over promise, under deliver" problem plaguing establishment republicans.
I've seen Husted speak.  You'd think he's the most conservative guy in the room, lol, which relates to the emailer's second point. Husted has insufferably blasted Senate republicans who voted for the recent 4.2% retroactive tax increase in an attempt to look like he's not an establishment republican. What we now know, however, is that the whole thing was a ruse orchestrated by establishment republicans; and the senators who voted for the monstrocity, were picked as "cowardly lions" based on term limits and who does/does not want to run for statewide office. More betrayal and political posturing at its best.
So why use Portman to coerce Clermont?
Background: Clermont County is a pain in Columbus' keester. Not only does it have a large number of "coveted" independents (who swing right when republicans are governing conservatively), but the Columbus establishment needs the Clermont GOTV machine to win elections. Unlike Hamilton, Warren & Butler, however, Clermont doesn't have a lot of "big money" to thow Columbus' way. As such, the ORP harbors a visceral love/hate resentment toward Clermont. No money, no respect…which is why Clermont doesn't take the ORP's crap.  End background.
So how does the ORP help their [unknown] "favorite son" cross that impasse with Clermont in 2010? Well, rather than telling him to get off his duff and earn it by reaching out to actives inside the county, they enable his laziness by strong-arming Clermont's "favorite son," Rob Portman, to get the job done. The bigger headline in my opinion, is that Rob so eargerly threw his peeps under the bus with the BLATANT inferences that they are either too stupid to evaluate candidates themselves and/or they're to forego any conclusions at which they arrive and blindly support someone because he said so.  I'd be offended, too, especially when any other candidate wishing to use Rob's name and/or picture must dot "i's," cross "t's," jump on one leg four times while spinning clockwise and – well, you get the picture. Now his campaign blindly cranks out a letter without any discretion whatsoever, which is exactly what got this nation into this mess.
At any rate, I wish the ORP (and any subscribing candidate) luck with their "strategy" of getting entangled in some primaries while ignoring the ones that won't work out to your heart's desire.
Lol…the ORP is as transparent as we want the federal government to be…
"Husted Hugs Strickland" pic obtained from Weapons of Mass Discussion.