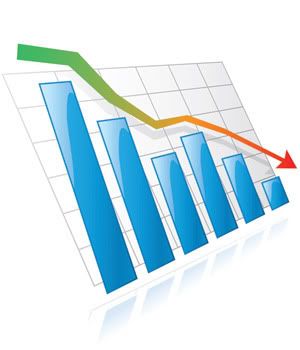 Despite six months of positive economic growth, Treasury collections are continuing what is now a serious two-year downward slide.
In August, the Congressional Budget Office projected that collections during the fiscal year that will end on September 30, 2010 will be $2.264 trillion (PDF; page 2 at link). That's $159 billion, or about 7.5% higher, than fiscal 2009′s final total of $2.105 trillion.
There's a problem. Unless there's a surprise when the final numbers come out next week, Uncle Sam's receipts for the quarter that just ended, i.e., the first quarter of the 2010 fiscal year, are already $60 billion behind the previous year. Somehow, this is not news.
Through November, as seen here, collections were already behind last year by about $40 billion ($268.9 bil vs. $309.6 bil). From all appearances, December was little better, as its estimated take of $218 billion trailed last year's $237.8 billion.
So here's my estimate, based on previous Monthly Treasury Statements and December's final Daily Treasury Statement, comparing this year to 2008 and 2007: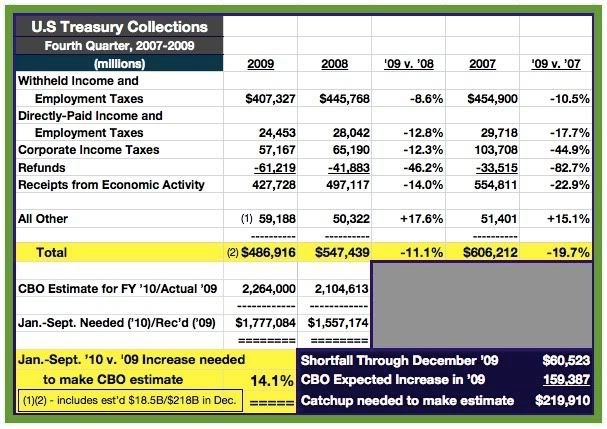 The chart also shows that to get back on track with CBO's projection for the full year, receipts from January through September of 2010 will have to beat the same period in 2009 by 14.1%. I would suggest that my beloved and cursed Chicago Cubs have a better chance of winning next year's World Series than Treasury has of collecting almost $220 billion more than it did the previous year in the coming nine months.
If the American people had any idea (and most don't) that collections have seriously declined for two years running, and that this year's decline is even worse than last year's (4Q08 trailed 4Q07 by "only" 9%), much of what little enthusiasm remains for statist health care and further "stimulus" efforts would vanish.
It's not unreasonable to believe that this is precisely why the establishment press is pretending that Uncle Sam's cash collections crunch is not important.
Cross-posted at NewsBusters.org.