ISM Catchup: The Institute for Supply Management's Manufacturing Index, covering about 12% of the economy (the percentage, which is lower than the 15% I have been using to this point, is from this WSJ item), showed a strong uptick for December, coming in at 55.9%, up from 53.6% in November, and beating expectations of 54.3% (any reading greater than 50% indicates expansion). It was highest reading since April 2006, the fifth positive reading in a row. ISM also asserts that the overall economy has grown every month since May of last year.
The Non Manufacturing Index, covering the other 88% of the economy, came in at a barely expansionary 50.1%, up from November's 48.7% contraction reading, and slightly trailing expectations of 50.5%. Seeking Alpha's Daryl Montgomery sees worrying inflation signs in the underlying detail. Employment is still seen by ISM respondents as in contraction.
The weighted average ISM indices, using the 12-88 weighting in both cases, came in at 50.8% in December vs. 49.3% in November. That's a net move into expansion, which is better than the alternative. But given how deep the recession was, you would ordinarily expect stronger optimistic sentiment this far into an incipient recovery, which has not by any stretch of the imagination shown that it is a legitimate rebound.
__________________________________________
Uncle Sam had to sell $2.1 trillion in new debt to keep the government running last year.
The subheadline at Min Zeng's Wall Street Journal item says that the fact that we found borrowers for all of this debt "is (a) 'Victory' for the U.S." Excuse me if I pass on the celebration.
Info behind the WSJ's subscription wall indicates that the number will need to be about $2.45 trillion this year — if borrowers are willing to go another round.
__________________________________________
This ("Hey, Rich People: Drop Dead. And I Do Mean Now") is supposedly "funny," — especially the part where the author refers to the "ill-gotten hoard" that anyone who is rich presumptively has in his view accumulated.
I wonder what would happen if I wrote a "humorous" column entitled "Hey, Medicaid Nursing Home Patients: Drop Dead. And I Do Mean Now," and thought it funny (which I don't) to refer to patients' "ill-gotten care"?
_________________________________________
At Volokh, Kenneth Anderson notices a Financial Times item claiming that U.S. state and local pension funds "would need to find more than $2,000bn to meet future pension obligations."
A large percentage of these benefits are gold-plated in comparison to what's available in the private sector, and desperately need to be pared back. Short-term efforts to preserve benefits on the backs of taxpayers will cause them to vote with their feet and leave (see Pittsburgh).
Sadly, as Anderson notes, the there is a strong possibility of a long-term federal bailout of the whole mess with out-of-control benefits more than likely preserved. If it goes down that way, the negative consequences for long-term economic growth will be significant.
_________________________________________
Speaking of people voting with their feet, there's this from the Tax Foundation –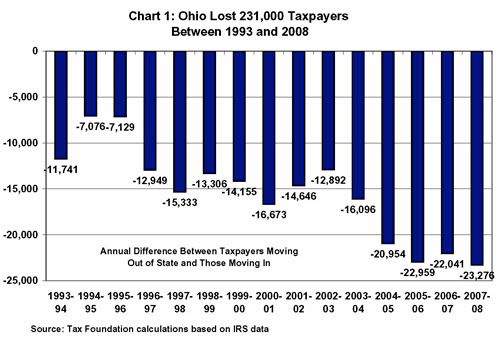 Ohio lawmakers recently reached a last-minute deal to close the state's $851 million budget shortfall by delaying a scheduled 4.2 percent income tax cut. As many lawmakers acknowledged, the deal was just a band-aid solution and avoids addressing the more structural issues facing the state's finances.

At the heart of Ohio's fiscal problems is a tax system and business climate that has been driving people out of the state for more than 15 years, resulting in a shrinking economy and a smaller tax base. At the same time, state government spending grew unchecked, resulting in a heavier tax burden on the state's remaining citizens. Ohio taxpayers now have one of the highest tax burdens in the nation.

The key to reversing these trends and improving the long-term fiscal health of the state is a sensible reform of the state's tax system.
This has occurred because, as I asserted in my September 2008 New York Post column, with the exception of a rare breather in the early 1990s, Ohio has been governed economically like a blue state for a decade and a half. Going back further, the Buckeye State, regardless of which party has been in power, has never really embraced sensible conservative economic governance in my lifetime.
Note that during Bob Taft's tax-increasing second term, the negative trend accelerated, and that during our first two years under Ted Strickland, things on average got a bit worse. The retroactive 2009 tax and prospective 2010 tax increases just enacted (NOT "tax cut delays," despite what Ohio's politicians and media establishment want us to believe, and how the Tax Foundation unfortunately described it) will surely not reverse it.