The Federal Reserve of Minneapolis has posted a series of charts (HT Ed Morrissey at Hot Air) comparing the current recession — as defined by the National Bureau of Economic Research, not as normal people define it, a point I'll get to later in this post — to previous recessions dating back to the end of World War II.
The charts definitely show how utterly wrong reporters like the Associated Press's Jeannine Aversa are when they claim that there has been anything resembling a "rebound" since the economy hit bottom from a growth standpoint in the second quarter of 2009 (the economy has yet to see an employment bottom). They also explain why AP reporter Martin Crutsinger seems to have tired of trying to put a "getting better" face on things in the past couple of days (as seen here and here at NewsBusters; here and here at BizzyBlog).
Here, after screen captures by Morrissey are the two mind-numbing creations in question, the first showing changes in output (GDP) and the second showing changes in employment: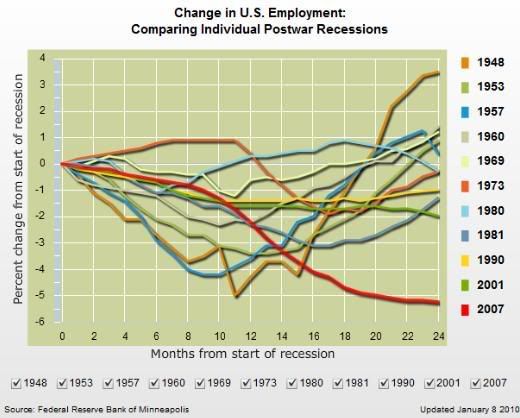 Together, they could be shown in a continuous loop and named "Nightmare on Main Street."
Now imagine if instead of using the NBER's subjective determination of when this recession began, the chart above had been done using the normally understood definition of two consecutive quarters of economic contraction. In that case, you would shift the "2007″ line (renamed 2008, because the recession as normally defined began in that year's third quarter) over by two quarters and six months, respectively. The results would arguably be even uglier.
Morrissey's capsule summary:
The economic policies of the Obama administration have lengthened the recession and delayed what would be the normal recovery process, mainly by signaling to investors and businesses that costs will go up in taxes and energy prices, as well as burdensome mandates on health insurance. As a result, people are not investing their money into job-creating risk but are sheltering their cash instead.
The Obama administration's "Uncertainty Economy" continues to wreak absolute havoc. Given what the first stimulus hasn't accomplished, any serious attempt at a second stimulus that based on history going back to the 1930s would be just as ineffective will have to call into question whether our government really wants the economy to recover.
In the meantime, I hope the folks at the Minneapolis Fed aren't waiting by the phone for calls from establishment media journalists requesting explanations and clarifications. They'll be pretty lonely if they are.
Cross-posted at NewsBusters.org.