Campaign energy, as Doug Flutie and others endorse Scott Brown, followed by the Massachusetts Miracle (no, not Doug Flutie's Hail Mary pass for Boston College again the University of Miami), Scott Brown's campaign; HT Michelle Malkin):
_________________________________________________
Other links and notes: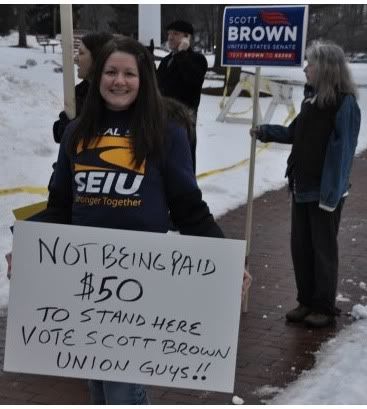 __________________________________________
UPDATE, 9:30 p.m.: The new PJM poll is supposedly comforting, but I don't think so –
A poll taken Sunday afternoon while President Obama was in Massachusetts campaigning for Democrat Martha Coakley against Republican Scott Brown for the open Senate seat in that state showed Brown leading his Democratic opponent by 9.6% (51.9% to 42.3% with 5.7% undecided).

The poll, conducted via telephone for Pajamas Media by CrossTarget, was of 574 Likely Massachusetts Voters and has a margin of error of +/-4.09%. CrossTarget used the exact method – Interactive Voice Technology (IVR) – it used in a similar poll for PJM on Friday. The previous poll showed Brown ahead by approximately 15%.
The problem is that the poll contained 21.6% Republicans and I thought I read somewhere that GOP registration in MA is only 11%. Even given that a lot of people might assume their registered to a party because they vote that way, it seems like that 9.6% lead is soft. The previous PJM poll showing 20.3% GOP was the one with the 15-point lead. I learned of the 11% figure sometime after that first poll.
No one should take anything for granted. Update: I note with some relief that there's a second poll with the same margin.
_________________________________________
Historical Background: Though the election is primarily a referendum on Obama's first year in office (hey, HE said so, so he made it so), the moral bankruptcy of Martha Coakley in the Amirault case, as recounted last Thursday (saved here at host for posterity) by the Wall Street Journal's Dorothy Rabinowitz, is a must-read. How do people like Martha Coakley get as far as they do?