Note: This post has been moved up because of its importance.
___________________________________________________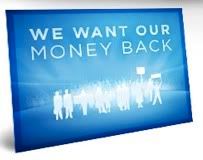 From a Saturday editorial (bolds are mine):
The White House has spent months imploring banks to lend more money, so will President Obama's new proposal to extract $117 billion from bank capital encourage new bank lending?

Just asking. Welcome to one more installment in Washington's year-long crusade to revive private business by assailing and soaking it.

Mr. Obama's new "Financial Crisis Responsibility Fee"—please don't call it a tax—is being sold as a way to cover expected losses in the Troubled Asset Relief Program. That sounds reasonable, except that the banks designated to pay the fee aren't those responsible for the losses. With the exception of Citigroup, those banks have repaid their TARP money with interest.

The real TARP losers—General Motors, Chrysler and delinquent mortgage borrowers—are exempt from the new tax. Why the auto companies? An Administration official told the Journal that the banks caused the crisis that doomed the auto companies, which apparently were innocent bystanders to their own bankruptcy. The fact that the auto companies remain wards of Washington no doubt has nothing to do with their free tax pass.

Also exempt are Fannie Mae and Freddie Mac, which operate outside of TARP but also surely did more than any other company to cause the housing boom and bust. The key to understanding their free tax pass is that on Christmas Eve Treasury lifted the $400 billion cap on their potential taxpayer losses expressly so they can rewrite more underwater mortgages at a loss.

…. In other words, the White House wants to tax more capital away from profit-making banks to offset the intentional losses that the politicians have ordered up at Fan and Fred.
The administration has owned up to TARP losses of $30 billion at GM and Chrysler. The total at stake according to the article excerpted at the linked post is $82 billion.
The way the administration is attempting to gin up support among its hopefully dwindling corps of activists has a whiff of attempted mob rule — and no, I'm not going to link to it (click on the pic to open in a new window if necessary):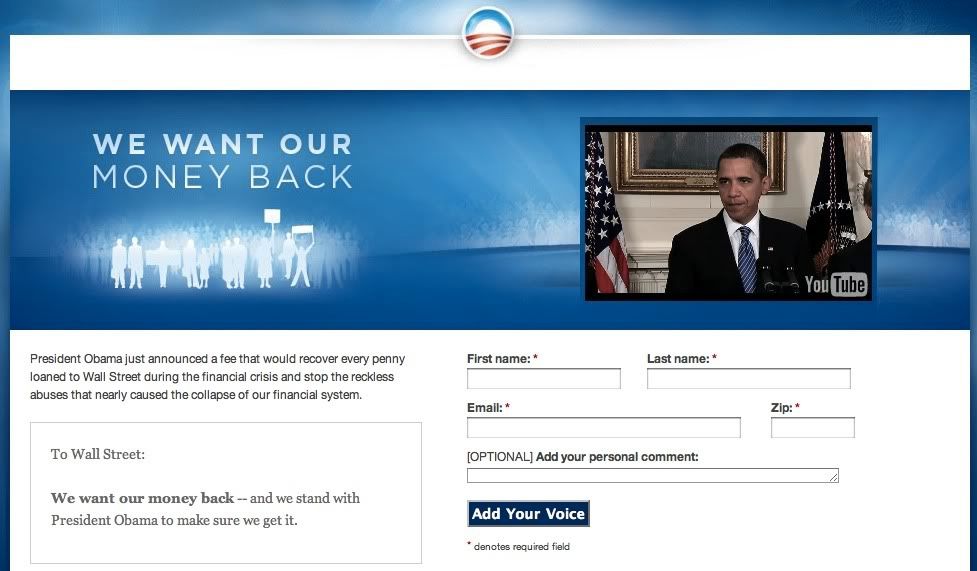 Who's this "we"? Do people signing this really think they're ever going to see any of the money?
Speaking of whiffs, the authoritarian aroma of the President's statement ("We want our money back. And we're gonna get it.") is unmistakable:
UPDATE: Seriously sick irony — The author of one of the "We Want Our Money Back" e-mail missives is Vice President Joe Biden. In 2005, Biden was known as "D-MBNA" for his support of so-called "bankruptcy reform," which tilted the playing field in favor of banks and at the expense of troubled consumers. All too many people in legitimate trouble with no way out haven't been able to escape foreclosure because that law made filing bankruptcy a deliberately delayed process.
Byron York at National Review took a closer look at the history of Biden's relationship with MBNA in 2008. A distinct aroma of clever corruption emerges from that piece.