Copenhagen comedy (HT Reason via Instapundit), from the New York Times:
The United Nations will hold President Obama to his promise that the United States will reduce carbon emissions even if the Senate cannot pass climate legislation, U.N. climate chief Yvo de Boer said this morning.
Or what, Yvo? Obama's "promise" means nothing without 60 senators ratifying a treaty.
A different NYT item notes that "Facing a Jan. 31 deadline, major countries have yet to submit their plans for reducing emissions of climate-altering gases …." Why should they, when the alleged "science" behind the need for CO2 reduction has been proven to be a bunch of globaloney?
Update: At FT.com –"UN abandons climate change deadline." Awww.
_________________________________________________
RIP, Air America (HT Michelle Malkin and Mark Levin on the air). Guess they ran out of Boys and Girls Clubs to rob.
_________________________________________________
More review is needed, but my general reax to yesterday's Supreme Court decision on campaign finance is that it's victory for freedom (What part of "Congress shall make no law … abridging the freedom of speech" don't they understand?) and a setback for the Washington incumbent-protection racket — just in time to rattle a lot incumbents during primaries and in November.
Though it would be easy to find examples of where I have objected to big contributors swaying elections by exploiting election law loopholes or knowingly violating them in the name of victory and worrying about sanctions later, I've always generally thought that the idea expressed roughly as "oh, you have free speech, but only a limited right to put your money where your mouth is" more than a little offensive.
_________________________________________________
For those who are wondering, a comparison of this to this (both dates are Wednesdays) indicates that Uncle Sam's year-over-year tax collections are still plummeting. Specifically: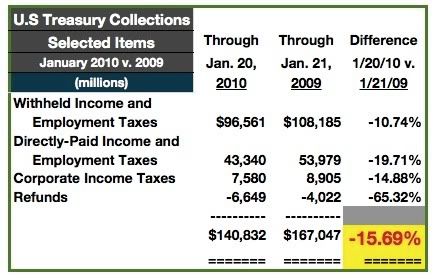 With seven business days remaining, the die is pretty much cast for January, as most of the collections relating to the January 15 due date for individual estimated payments have probably been posted. It looks like the year-to-date collections shortfall thus far (October through January) will be about $90 billion.
The Congressional Budget Office is supposed to issue revised estimates of annual deficits over the next 10 years before the end of the month. The last one CBO did was in August, at which time it estimated that receipts for fiscal 2010 would be about 7.5% higher than fiscal 2009. Barring something I'm missing, that CBO report going to be ugly, and the "blame Bush" argument just won't wash.
There can be no credible claim of recovery until they can show us the money. Rebound? What rebound?