In a week where several news outlets recognized significant happenings involving the Association of Community Organizations for Reform Now (ACORN), the Associated Press seems to have decided that none of them merit mention. A search on "acorn" at the AP's main site returns the following: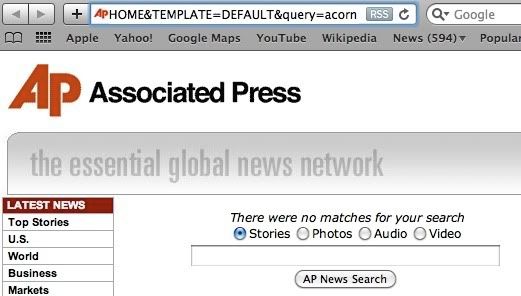 This search doesn't eliminate the possibility that AP ran local or regional stories, but I didn't locate any in a Google News search on "ACORN."
What follows is a small sample of other coverage generated as a result of goings-on at ACORN during the past week. Readers can decide whether the wire service has decided that recognizing negative news about a scandal-ridden "progressive" organization is a bad idea:
AP has done stories with far less substantive raw material from elsewhere. Why not on ACORN?
Cross-posted at NewsBusters.org.