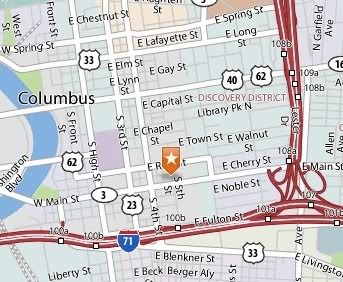 Note: This originally went up very early this morning, and has been carried to the top because of its importance.
_______________________________________
UPDATE, 8 a.m.: I didn't want to put contact info in the body of this post. But in response to a commenter's request and to assist others interested in making their voices heard, I have taken a screen cap of the Central Committee phone contact info (after covering up the e-mail addys) that was included in the e-mail and posted it here. It is only for Districts 4, 7, 8, 9, and 14. Any contact info on the other 28 districts would be welcome.
UPDATE, 8:30 a.m.: Fellow SOBer Maggie Thurber has posted on this, and has included phone contact info on relating to districts in Greater Toledo (specifically, Districts 2 and 11).
UPDATE, 9:00 a.m.: A timely, important reminder from SOBer Matt Hurley at Weapons of Mass Discussion from last Wednesday — "My sources always said that Yost had the upper hand in the State Central Committee and that if the vote had been called, Yost would have won it." "It" was a one-on-one Attorney General endorsement vote against Mike DeWine.
_______________________________________
Original post, 12:40 a.m.: Just got tipped to the following e-mail.
If the protest described occurs, it will be the first of its kind I have ever heard of in the State of Ohio.
Here goes (I'm excerpting the portions of a much longer e-mail that are relevant to this post):
We outlined for you the mess that the State GOP has made in the Yost/Dewine race, and most of you know that David Yost did in fact bow to pressure from Mr DeWine and backed out and is now challenging Seth Morgan, a CPA, for State Auditor. Many of you wrote letters and voiced your frustration for this type of "politics as usual" behavior from the GOP.

The information below represents what began as a request to make calls to the State Central Committee of the GOP and has escalated to a full scale protest within 24 hours.

The committee is meeting in Columbus on Monday (tomorrow) to determine what to do about this situation. First – call them please, and let them know how you feel about the Yost/Dewine situation- putting in the local contact Ive just received via Dan Lilliback of the Cincinnati Tea Party. Second- This situation has escalated to a protest in person ….

Following is information I received regarding a call for people to join a protest tomorrow:
"NO MORE RINO ESTABLISHMENT CANDIDATES!"

We are mad as hell and we are not going to take it anymore!! Will you join Ohioians from across the state who are angry over Kevin DeWine's (the Ohio GOP Chair) dirty underhanded political tactics that pushed Dave Yost (a strong conservative) out of the Attorney General's race in favor of his second cousin R.I.N.O., Mike Dewine?

On Saturday we learned that the State Central Committee for the Ohio Republican Party (your area representatives at the state level) are meeting on Monday, Feb 1st to discuss this Yost/Dewine mess in the Attorney General Race. They currently have not endorsed anyone, but it is clear their lack of statement benefits, 2nd ammendment killing, free market stifiling, liberal Republican Mike Dewine.

…. Do we really believe in principles over party?!? If something doesnt happen, we are going to be left with a choice between Dewine or current AG, Richard Cordray, who left Joe the Plumber hanging to the Obama administration.

WE NEED YOU to do two things.

1st. – Contact your Republican State Central Committee reps and let them know we will no longer tolerate the GOP propping up liberal R.I.N.O.s. We want sound conservative, constitutional candidates!! We are tired of voting for the lesser of two evils!!

Some Central Commitee Members may choose to call into this meeting instead of attending in person. That is why is it vital that you contact them before the protest!

2nd – Show up with your signs, blasting Kevin DeWine and the GOP propping up RINO Candidates, at the Ohio Republican Party Headquarters, this Monday Feb 1st well before 6 pm if possible. (The Central Committee is meeting at 6). Here is the link showing the headquarters location.

One of the organizers of this protest is coordinating a RALLY POINT and FURTHER DETAILS. We will share this with you as soon as we get the information.

Insider information leads us to believe that Kevin Dewine is brushing off concerns about his tactics regarding Yost and attempting to quiet conservative voices within his own Party!! We must show him and other establishment RINOs that Ohio Patriots will not be silenced!! OHIO VOTERS DESERVE BETTER!
Those who know Columbus well will be easily able to follow the handy mini-map the top of this post to get to ORPINO (Ohio Republican Party In Name Only) headquarters.