Will January 2010 be the month when private-sector employment finally picked up after years of contraction? (Update: Private-sector employment contracted for the 25th month in the past 26, but November was restated to show a seasonally adjusted 75K pickup in the private sector from a previously reported zero. December's private-sector statistic now reads -123K.)
Will the comprehensive revision really be as bad or worse than the 824,000 jobs lost that the Bureau of Labor Statistics telegraphed last year? (Update: Worse.)
In the runup, ADP said on Wednesday that 22,000 seasonally adjusted private-sector jobs were lost in January. AP reports from yesterday carried predictions that today's number for the entire economy will be +5,000. A really good New York Post column by John Crudele cites +13,000.
Those of us who follow the actuals are watching what comes in compared to prior years: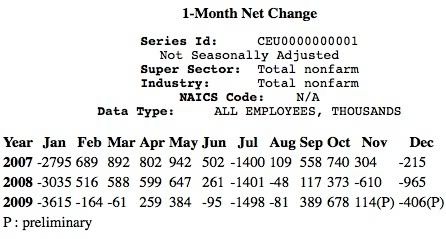 January (really mid-late December through mid-late January, when the employment surveys are done) is a big negative month on the ground largely because people hired as seasonal help during the holidays are let go.
The report will come out here at 8:30 a.m.
The news:
The unemployment rate fell from 10.0 to 9.7 percent in January, and nonfarm payroll employment was essentially unchanged (-20,000), the U.S. Bureau of Labor Statistics reported today. Employment fell in construction and in transportation and warehousing, while temporary help services and retail trade added jobs.
What was supposed to be relieving news (jobs) turned out not so good (pending revisions, of course), and what was supposed to be bad news (the unemployment rate) ended up being "good."
But the obvious reax is that this combination can only be occurring because more Americans on net have stopped looking for work.
++++++++++++++++++++++
Update: The less obvious but more correct reax is that based on contacts with households the Bureau found fewer unemployed people on a seasonally adjusted basis last month. But, it didn't find them working at establishments they contacted. In other words, things are out of sync, which is unfortunately not unusual. The establishment survey is supposedly more precise (emphasis on "supposedly").
That is, the guy in this AP report, despite the establishment survey's contrarian take, is hopefully correct:
"It simply was, people found jobs," he said. The report is "consistent with continued improvement in the labor market."
++++++++++++++++++++++
Later in the report, we see that seasonally adjusted government employment grew yet again:
January, the federal government added 33,000 jobs, including 9,000 temporary positions for Census 2010. Employment in state and local governments, excluding education, continued to trend down.
The private-sector shrink (just looked it up in the longer version of the report) was 12,000. The "Honey They Shrunk the Private Sector" trend continues.
As to that comprehensive revision … … ouch:
The total nonfarm employment level for March 2009 was revised downward by 902,000 (930,000 on a seasonally adjusted basis), or 0.7 percent. The previously published level for December 2009 was revised downward 1,390,000 (1,363,000 on a seasonally adjusted basis).
Good news, bad news, wrong net direction: November got revised to +64,000, up from +4,000. December went to -150,000 from -85,000, which was a surprise, because ADP's January revision to December showed fewer private-sector job losses.
As you'll see at this NewsBusters post, my CNNMoney.com e-mail alert liked the unemployment rate drop so much that it "forgot" to mention both January's job losses and the comprehensive revision.