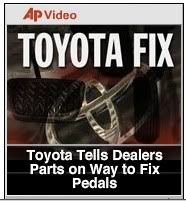 In late August 2009, Toyota announced that it would close its New United Motor Manufacturing Inc. (NUMMI) factory in Fremont, California at the end of March. The plant had been a joint venture of the company and General Motors until June, when GM withdrew.
Almost six months later, in the wake of a series of Toyota product recalls, and roughly seven weeks before the plant's scheduled shutdown, the UAW and the AFL-CIO on Friday began an attempt to gin up a campaign to convince the company to reopen the plant, and to encourage the public to refuse to buy its products it if doesn't.
Since there is virtually zero chance of the plant remaining open (the company said at the time of the closure that "it will close the plant, regardless of financial incentives offered by the state"), you'll have to excuse me if I question the overall timing, and even if there might be just a wee bit of government and union coordination going on here — especially given some of the people involved and some of the statements made at a rally outside the plant and at the UAW's nearby union hall yesterday.
In terms of press coverage of yesterday's events, you have to wonder if Brooke Donald of the Associated Press and George Avalos of the Oakland Tribune were actually in the same place. Donald's AP coverage made what was going on appear relatively benign, while Avalos included important details to the contrary.
Here are key paragraphs from the AP's Donald:
Amid Toyota recalls, workers rally to save CA jobs

Dozens of workers rallied Friday to save a Northern California auto plant where more than 4,600 people could lose their jobs if Toyota stops production at the end of March.

Labor leaders said closing the New United Motor Manufacturing Inc. plant – the sole remaining automobile assembly plant in California – would be the worst thing Toyota could do while it struggles to regain consumer confidence after several recalls.

"Killing American jobs won't help Toyota regain public support or revive its sales. Toyota must reverse its decision," said AFL-CIO President Richard Trumka.

In recent weeks, Toyota's reputation has been hurt by the global recall of 8.5 million vehicles and questions about how quickly the giant automaker responded to safety problems.

…. The demonstration kicked off a nationwide campaign urging the Japanese carmaker to save the plant, said Bob King, vice president of the United Auto Workers. The rally was held inside a nearby union hall.

At the rally, Lockyer announced the formation of a commission to study the impact of the pending closure on California's economy.
Two quick points:
If his concern was legitimate, Lockyer would have formed his precious commission last fall, not 45 days or so before the scheduled end of the plant's operations.
Given its withdrawal from the arrangement, why isn't this closure as much GM's fault as Toyota's? Why weren't the UAW and AFL-CIO protesting in Detroit when GM pulled out, making the plant's continuation economically unfeasible without replacement production?
Avalos's Oakland Tribune coverage, unlike Donald's, pointed out several more confrontational elements at the event and in Big Labor's plans (bolds are mine):
Union workers rally to save NUMMI plant

Hoping to cajole Toyota into a rescue of the imperiled NUMMI auto factory here, union leaders launched a nationwide effort Friday that will include picketing at the embattled manufacturer's auto dealers.

The new campaign by members of the United Auto Workers and other labor groups comes as Toyota is reeling from multiple safety and quality miscues.

A crowd that crammed into a big union hall across the street from the New United Motor Manufacturing Inc. plant in Fremont chanted and cheered a series of speakers, including Sergio Santos, president of United Auto Workers Local 2244, which represents UAW members at the NUMMI complex.

"We want the company to review and reverse its decision to close our factory," Santos said.

Others who spoke included top officials from the UAW, the AFL-CIO and the Teamsters Union.

… "We will take this fight to every Toyota dealership in California," Richard Trumka, president of the AFL-CIO, said via a videoconference link. "Our message is that Toyota kills American jobs. This comes at a time when Toyota can ill afford another black eye."

The union leaders unveiled a banner that morphed the Toyota symbol into a skull.

"If they close the NUMMI plant, we union people will not buy another Toyota," said Bob King, UAW vice president.

… "You are going to see an attack on Toyota that is unprecedented," said Rome Aloise, a top Teamsters official.
I guess Brooke Donald just didn't have it in her to report the truth about what the thuggish side of how organized labor acts when it doesn't get its way, and apparently believes that readers and listeners at her organization's subscribing outlets should be shielded from learning about it. Fortunately, Mr. Avalos didn't report things that way.
Cross-posted at NewsBusters.org.