UPDATE, 6:15 P.M.: An unbylined 11:57 a.m. AP report (i.e., 54 minutes after the time stamp of this post) contains these two paragraphs (numbers 12 and 13) about Delahunt's involvement:

Based on a search on Delahunt's last name at about 6:15 p.m., this version of AP's report is either still not at its main site, or has not been indexed by its search engine.
__________________________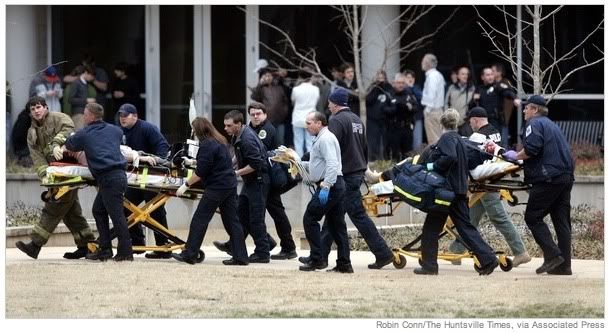 Democratic Congressman Bill Delahunt's far from minor role in the 1986 release of Amy Bishop, the University of Alabama in Hunstville biology professor implicated in the murder of three colleagues on Friday, has garnered significant press attention in the past 24 hours or so. Some reports have noted Delahunt's party affiliation; others, mostly but not entirely out of New England, where Delahunt's party affiliation may be common knowledge, have not.
But in two stories time-stamped early this morning — a 12:02 a.m. 300-word item by Jay Lindsay and a 6:43 a.m. comprehensive 1000-word report co-written by Lindsay and Desiree Hunter (saved here and here, respectively, for future reference, fair use and discussion purposes) — the Associated Press failed to even note Delahunt's involvement.
Given that so many other stories have, and that the wire service often combs through others' work while "creating" its own reports, it seems reasonable to ask whether its failure to mention Delahunt, especially in its second account, is deliberate, and if so, what might motivate it.
Here are key paragraphs from the Boston Globe's breaking news report yesterday:
Professor accused in Ala. slayings shot her brother in Mass. 24 years ago

The University of Alabama biology professor accused of opening fire and killing three colleagues at a faculty meeting Friday shot and killed her teenage brother more than two decades ago in Massachusetts, according to authorities.

But a local police chief and the district attorney's office gave differing accounts today of the 1986 shooting, which occurred at the siblings' home in Braintree, raising questions about the handling of that case.

According to the current Braintree police chief, Paul H. Frazier, Amy Bishop fatally shot her 18-year-old brother, Seth, on Dec. 6, 1986, but was set free the same day by Braintree Police under orders from then-Police Chief John Polio. In news accounts at the time, Polio called the death an accident that happened when Bishop was learning how to unload a shotgun.

Frazier challenged that account today, saying instead that Bishop shot her brother during an argument and fled on foot with the 12-gauge shotgun before being captured by police, who handcuffed her and took her to the station. The case file, including the report of the incident, disappeared shortly thereafter, he said.

"I don't want to use the word 'coverup,'" Frazier said. ''I don't know what the thought process was of the police chief at the time.''

But the Norfolk County district attorney's office this evening released a six-page report from its archives that showed State Police investigators reviewed the case with Braintree Police and concluded that Seth Bishop's death was an accident.

… The district attorney at the time, current US Representative William D. Delahunt, is out of the country and could not be reached for comment.

Frazier said that the Bishop case file was missing from the records today and that he was told by an officer that it had been missing since at least 1988.
Anyone attempting to defend AP on the grounds that national audiences might not care about Delahunt will need to explain why the nationally focused New York Times brought Delahunt into its story, and even named his party:
The district attorney at the time was Bill Delahunt, who is now a Democratic congressman from Massachusetts. Mr. Delahunt was traveling in Israel and could not be reached.
A very partial roster of other outlets mentioning Delahunt includes CNN, wire service UPI, NECN, Boston TV Station ABC Channel 5 (reporting that "Braintree officers who remember the 1986 shooting said that former police Chief John Polio dismissed detectives from the case and ordered the department to release Amy Bishop after a telephone conversation with former district attorney William Delahunt, who is currently a U.S. congressman from Massachusetts"), and the Boston Herald.
A search on Delahunt's last name at the AP's main site done at 11:15 a.m. came up with no item relating to the Alabama murders.
As seen here, the AP had no problem bringing Mike Huckabee's name and party into a report about the murder of four Seattle, WA-area police officers at the hands of Maurice Clemmons late last year.
So why not this time, AP?
Cross-posted at NewsBusters.org.