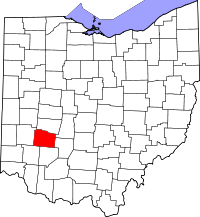 ORPINO (the Ohio Republican Party In Name Only) has had a blizzard of problems this winter.
Now it has a Seth-storm on its hands. Last seen in Brown County a week ago, it swept through Greene Country Thursday night. Once again, the Seth-storm buried ORPINO-endorsed Auditor candidate Dave Yost.
SOBERs Matt at WoMD, RightOhio, and Return of the Conservatives have picked up on the news carried at Seth Morgan's blog (bolds are mine):
Auditor of State candidate Seth Morgan, CPA was endorsed by the Greene County Republican Party with 60 percent of the vote on Thursday, February 18.

"Seth Morgan continues to be recognized as the most qualified candidate of either party for Auditor of State," said Rob Scott, Friends of Seth Morgan Communications Director. "This endorsement further builds on the huge base of support Seth has gathered across Ohio."

Ohio Republican (Party) Chairman Kevin DeWine currently serves as a Greene County Central Committee member and resides in the county. Both Morgan and his primary opponent Delaware County Prosecutor Dave Yost were in attendance to ask for the county's endorsement for state auditor. The Greene County endorsement is the second county endorsement Seth Morgan has received in more than a week.
Any and all first-hand accounts of this latest example of (political) climate change would be welcome, especially an assessment of the Seth-storm's damage to what's left of ORPINO's influence on the GOP's grass roots from Chairman Kevin DeWine (if he was indeed there to carry out his assigned duty). Y'all know my e-mail.
Cross-posted with minor changes at Examiner.com.
__________________________________________________________
UPDATE: Last week, Belmont County GOP Chairman Kent Moore sent an e-mail to his 87 fellow county chairpersons. Among other things, it falsely accused Morgan of orchestrating the Tea Party protest of Dave Yost's Auditor endorsement (and the related clearing of the fleid for AG candidate Mike DeWine) at ORPINO headquarters on February 1.
Moore's missive also suggested that Morgan needs to "respect the GOP and it's (sic) elected leaders."
I suspect Kent Moore is unavailable for comment, but if not, Kent, you're welcome to bring your pathetic hatchet-man routine over here.