I've been wondering lately, just how "cozy" Ohio Right to Life (ORTL) is with the ORP…
Looks like Secretary of State candidate Sandra O'Brien has been asking the same thing.
Here are the screen shots for good measure: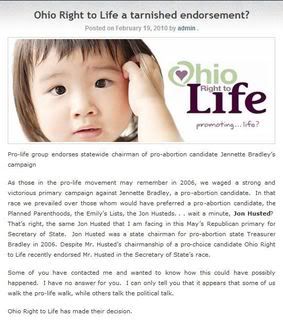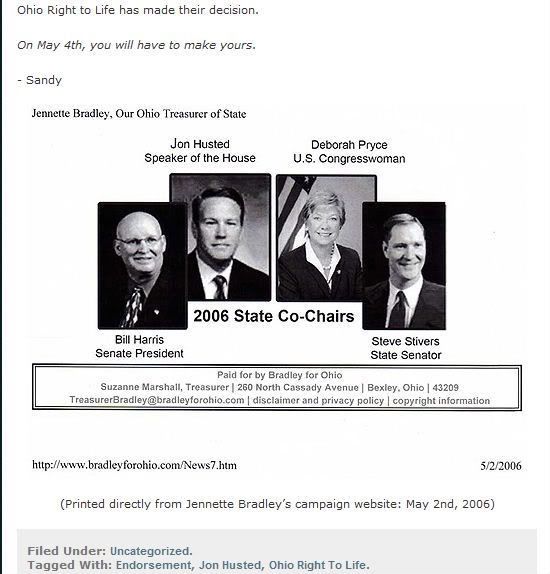 Wow…I try to stay at least minimally involved and did not know that Jon Husted was pro-abortion Bradley's Campaign Co-Chair along with 3 other RINOs. Wonder why that isn't on his resume. O'Brien is justifiably concerned about the fact that Ohio Right to Life completely blew her off this year…especially after she received their endorsement in 2006 over pro-abortion Bradley.
Regardless of what one thinks of O'Brien's viability this year, with regards to to being pro-life, viability is moot. You either are or you're not, and this information shows the continuing pattern of Ohio Right to Life, under Gonidaki$' gaffes, becoming more political than pro-life. Sounds awfully familiar…kinda like the Ohio Republican Party's "party over principle" problem. And how ironic that Jon Husted is the catalyst to both conditions.
Bottom line: If someone is pro-life, they deserve to be recognized by the organization claiming "life" as its number one priority. Otherwise, you are no better than the partisan hacks at the Ohio Republican Party who for years took our "fight the good fight" donations and gave it to losers like Bob Taft.
There is one more endorsement that will prove whether or not ORTL has totally sold out to the point of no return or simply requires more monitoring and accountability measures.  Stay tuned…
Shame on Gonidaki$ and the ORTL Board…hope the quid pro quo is worth the legitimacy of your organization.