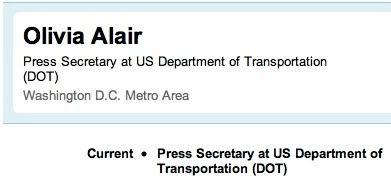 Note: This post originally went up earlier this morning, and has been carried forward.
_____________________
So in Barack Obama's America, what happens to a person who:
Served as presidential candidate Barack Obama's regional communications director for Ohio for Change?
Was also cited as "an Obama spokeswoman in Ohio"?
Also served as "a campaign spokeswoman" for fleeting presidential candidate Joe Biden in early 2008?
In October 2008, registered to vote in the Buckeye State, even though she was not a resident, and apparently obtained an early-voting ballot?
Along with a dozen others, avoided a threatened felony prosecution that month by signing "a form letter asking the Franklin County elections board to pull their names from the rolls."
Why, you get hired by Uncle Sam at what is probably a six-figure salary to be a Transportation Department spokesperson. Isn't that obvious?
The person involved is one Olivia Alair, whose name has appeared several times in the past 24 hours in connection with establishment media stories covering an internal Toyota company presentation turned over to congressional investigators and subsequently leaked to the press. Here are a few examples:
(Associated Press, Feb. 21, 7:17 p.m.)

Transportation Department spokeswoman Olivia Alair called the document "very telling. And that's why Secretary (Ray) LaHood has been saying we're going to hold Toyota's feet to the fire and make sure they do what's necessary to make their cars safe for the driving public."

(Los Angeles Times, Feb. 22)

Because the document implies that Toyota was able to steer federal defect investigations and safety rule-making, it also raises questions about the effectiveness of regulators. But Department of Transportation spokeswoman Olivia Alair defended her agency.

"It's not just the federal government's job to catch safety defects. It's the responsibility of automakers to come forward when there is a problem," Alair said. "Unfortunately, this document is very telling."

(Reuters via the Washington Post, Feb. 22)

But the U.S. Department of Transportation said the document highlighted Toyota's slow response to the safety problems.

"Unfortunately, this document is very telling," said department spokeswoman Olivia Alair in an emailed statement.
As noted above when she garnered significant center-right blog attention — and almost no establishment media attention — during the final weeks of the presidential campaign, Ms. Alair was barely avoiding the wrath of a Buckeye State prosecutor:
Thirteen campaign workers for Barack Obama yesterday yanked their voter registrations and ballots in Ohio after being warned by a prosecutor that temporary residents can't vote in the battleground state.

A dozen staffers – including Obama Ohio spokeswoman Olivia Alair and James Cadogan, who recently joined Team Obama – signed a form letter asking the Franklin County elections board to pull their names from the rolls.

The letter – a copy of which was obtained by palestra.net, a Fox News affiliate – came a day after prosecutor Ron O'Brien publicly urged out-of-state campaign workers for both Obama and John McCain to "examine your conscience" before the elections board beings begins opening absentee ballots today.
An American Thinker item from December of 2009 (HTs to Taxman Blog and RightOhio) has more about Ms. Alair's background:
According to congressional pay records, Olivia had worked as a staffer for then Senator Biden for a few years as an Assistant and Deputy Press Secretary. It was only fitting that she work for the presidential campaign as a spokesperson. After the swing state of Ohio was won as well as the over all election by the Obama/Biden campaign, Olivia stayed on as part of the transition team and political arm for the new administration as the Ohio Regional Communications Director for Obama for America …

… Keep in mind that Olivia worked directly for White House Press Secretary Robert Gibbs during the presidential campaign since Gibbs was the national spokesperson for the campaign.

So to answer the question: "Where is Olivia Alair, the 2008 Ohio spokesperson for the Obama/Biden campaign who had to pull her illegal vote in a deal with a county prosecutor to avoid felony voter fraud charges, today?"

She just got promoted by people who know she is a vote fraudster and will be making six figures working "for you" in DC at the DOT.
Talk about "very telling."
So the world's largest car manufacturer, employing over 300,000 worldwide and paying untold billions annually in income, property, unemployment, and other taxes, is being lectured about product safety by a known vote fraudster who has been rewarded for her misbehavior with a cushy government job, while the vast majority of the establishment press has no way to make the association because it barely covered Ohio's 2008 vote-fraud story in the first place.
Only in Barack Obama's America.
Cross-posted at NewsBusters.org.
____________________________________________________
Previous Posts: