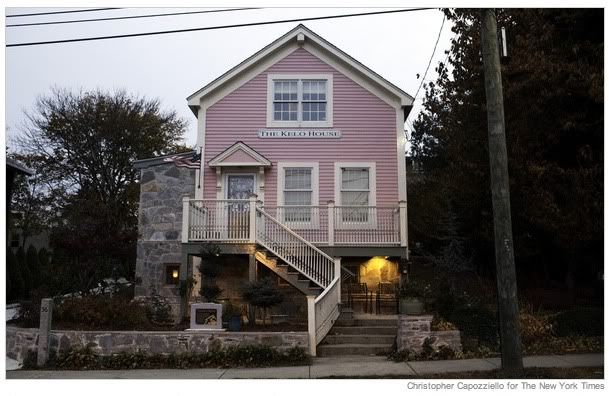 Last Friday, New London, Connecticut's newspaper The Day carried the first bit of news in years that might be construed as positive about the city's Fort Trumbull area, part of which became the subject of the infamous Kelo v. New London Supreme Court decision in June 2005. Twenty-four hours later, further detail also carried at the Day showed that the "good news" is really a cruel joke on homeowners who fought for the right to keep their properties.
The Kelo decision turned the clear language in the U.S. Constitution's Fifth Amendment on its head by affirming the right of the city to take private property from individual homeowners for a "public purpose" (not a specific "public use" as the Amendment requires).
The city convinced the Supreme Court that it had "a carefully considered development plan." The trouble was when that plan met the real world during the three-plus years after the July 2006 final settlement between the city, the State of Connecticut, and final eminent-domain holdouts Susette Kelo and Mike Cristofaro, no developer wanted to get involved. Kelo's house (pictured above via the New York Times) was moved to a separate site and serves as a monument to her and others' heroic efforts.
Despite the hard feelings all around, one can see how Thursday's news covered in Friday's Day indicating a bit of movement in a moribund situation might have been cause for limited cheer:
NLDC votes to negotiate with potential developer for Fort Trumbull

New London – The New London Development Corp. executive board voted unanimously today to begin negotiations with Westport developers Irwin and Robert Stillman to build 80 townhouses in Fort Trumbull.

The townhouses would be located on 6.5 acres that was once part of the Naval Undersea Warfare Center adjcent to Fort Trumbull State Park and the Coast Guard station.

The Stillmans were the only developer to respond for a "request for qualifications" issued in December by the NLDC.

"(The Stillmans) seem well qualified and seem responsive to the interests of the community," NLDC executive director John Brooks said.

The Stillman organization has built hotels, condominiums, single family homes, offices, shopping centers in the New York metropolitan area.
The bitter irony, of course, is that the developer would be building townhouses in an area (but, to be clear, not on the same site) where a neighborhood full of perfectly good though aged homes had been.
It is clear from initial reports that everyone believed that what would was involved would be owner-occupied properties. TV station WTNH even sought out Cristofaro for comment:
"They killed a neighborhood, that's what they did, just to create a new neighborhood that meets their standards. That's a shame," he said.

As part of Cristofaro's agreement with the city, he gets first dibs on any new housing.

"That is what we wanted. We wanted to remain in Fort Trumbull," he said.
But a day later, the Day reported that what might have been "only" a bitter irony was really an insult to everyone's intelligence (bolds are mine):
Westport firm envisions 'charming' townhouses

New London – A proposed residential development at Fort Trumbull would take its inspiration and style cues from the Greek revival architecture on Starr Street.

Following a unanimous vote Friday by its executive board, the New London Development Corp. will start negotiating with a Westport developer that has proposed "a village of historic and charming character."

Father and son developers Irwin and Robert Stillman want to build 80 rental townhouses in the Fort Trumbull peninsula.

The city took properties and demolished houses and other buildings to make way for a development of homes and a conference center/hotel. But no new construction has taken place at Fort Trumbull in the 10 years since.

Contributing to the delay were an eminent domain case that reached the U.S. Supreme Court, other court cases, environmental challenges and the downturn in the economy.
You read that right — the developer has proposed building rental properties.
Either the developer or the city, whoever retains title to the properties, will be the ones who will profit from operating the proposed rental-property complex, and will benefit from any upturn in area real estate values that might occur after the properties are built. Perhaps the city or the developer will cash out by "going condo" several years down the road.
I don't think Mike Cristofaro would have spoken with WTNH he had known that the proposed development only involves rentals. His "first dibs" on new housing more than likely doesn't include an ownership stake in the development, and I suspect he would have no interest in it in any event. Given the time that has already elapsed and the time it will take to get the units built, it may be that the City, its New London Development Corporation, and the developer intend to build no owner-occupied units until the nine-year term of Cristofaro's "first dibs" option expires. In other words, they may be working on cutting Cristofaro out by sticking with rentals only until after 2015. Given other vindictive events in this sordid saga (examples here and here), I don't see how anyone can rule out that possibility.
My second bold in the Day excerpt demonstrates that the paper continues to strain mightily to avoid using what seems to be the worst of all four-letter words in New London: Kelo.
One would think that this outrageous twist in one of the most important property-rights cases in American history might get noticed nationally. So far, it hasn't been. Because it makes a government and five Supreme Court justices who refuse to honor the clear language of the Constitution look bad, I wouldn't count on seeing any.
Cross-posted at NewsBusters.org.
_____________________________________________
BizzyBlog-only Footnote: In November of last year (as noted at NewsBusters; at BizzyBlog), pharmaceutical giant Pfizer, whose arrival in New London a decade earlier was largely based on the city's promise to develop the land the city ultimately took as a result of its Supreme Court "win," announced that it would be leaving the city at a loss of 1,400 jobs.