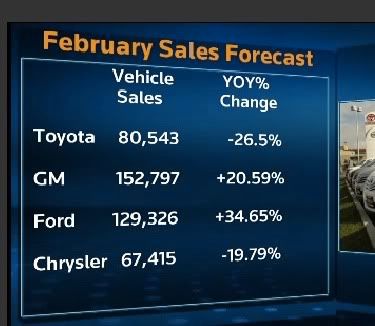 From MarketWatch, in news that varied greatly from what at least one analyst interviewed by Bloomberg expected (seen at right; Update — I noticed somewhere that the analyst was presenting a composite prediction of several industry-watchers):
Ford said it sold 142,285 cars and trucks in its home market in February, a 43.1% surge that puts the company back atop the mass automotive market it built more than century ago.

…. Meanwhile, GM handed in an 11.5% rise to 141,951 cars and trucks that was driven by strong demand for cars not burdened with Pontiac, Hummer, Saab or Saturn nameplates. Excluding the brands that GM is shedding, sales jumped 32%.

…. Toyota's month was not as bad as analysts had expected, as sales fell 8.7% to 100,027 units from 109,583 a year ago. The Prius hybrid was one bright spot, with sales jumping 10.2% to 7,968 vehicles from a year ago.
The Bloomberg analysts' ridiculous miss on Toyota, which sold about 25% more cars than predicted, may indicate that what is from all appearances a government-media campaign to hurt the company isn't succeeding to the desired degree. Good.
As I wrote last summer, Ford owes the American Family Association a big thank-you note for shaking the company back to reality at just the right time about 18 months earlier:
Luckily for Ford, it did what it had to in order to end their AFA boycott in early 2008 — just in time for it to refocus on its business while rivals General Motors and Chrysler slid into bankruptcy and government bailouts.
Sobering thought: If that hadn't occurred, Obama's car czars might now be running the entire domestic auto industry. Yikes.
_________________________________________
UPDATE 1: The composite prediction above also missed the mark badly on Chrysler, which, at 84,449 vehicles, actually beat February 2009 by 1%. UPDATE 1A: That's the first year-over-year gain at Chrysler in 26 months and follows February 2008′s -14% and February 2009′s -44%. That's a 52% decline over two years.
UPDATE 2, March 3: The Wall Street Journal's sales table shows Ford with fewer sales than GM because it separately lists Volvo's 4,461 vehicles elsewhere in the table. The detail (PDF) behind Ford's official announcement shows 142,285.
UPDATE 3, March 3: GM was so (not) thrilled with its February results that it the Politburo — er, Chairman Ed Whitacre and the board — shook up its management team yet again.
That the announcement's title ("GM Announces New North American Leadership Team") is misleading is proven by the last portion of its actual URL ("0302_exec_reorg" — i.e., yet another rearrangement of deck chairs).