This missive from Organizing For America makes you wonder: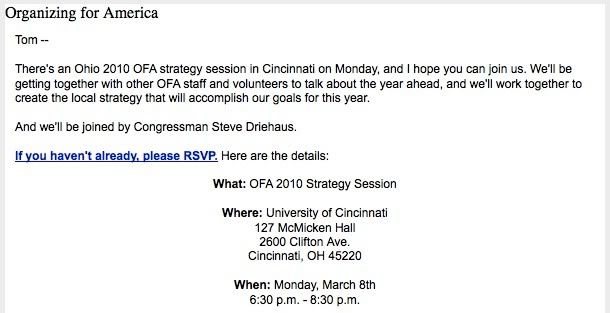 OFA, as would be expected, has been particularly obsessed with pushing for statist health care. It's also safe to say that an OFA meeting is not the safest place for someone who claims to be pro-life.
However, it was established during the 2008 political campaign that Steve Driehaus's claim to be pro-life is not and cannot be legitimate, because he supported the virulently anti-life Obama for President.
But if he really does abandon Stupak, that would disabuse anyone still clinging to that already absurd notion, and would pretty much guarantee that Driehaus is willing to sacrifice any hope of extending his career in Congress in the name of la causa.
____________________________________________________
UPDATE: Via FreeRepublic, the Stupak Dozen, representing Democrats who are supposedly against any health care reform unless it prohibits government funding of abortions (i.e., that maintains existing prohibitions against government funding under the already constitutionally tested Hyde Amendment), consists of:
Jerry Costello (D-IL), Dan Lipinski (D-IL), Joe Donnelly (D-IN), Brad Ellsworth (D-IN), Joseph Cao (R-LA), Bart Stupak (D-MI), Dale Kildee (D-MI), Jim Oberstar (D-MN), Steve Dreihaus (D-OH), Marcy Kaptur (D-OH), Charlie Wilson (D-OH), and Kathy Dahlkemper (D-PA).