Worst example of shameless pandering, at least in Ohio — ever:
Former U.S. Senator and current Ohio attorney general candidate Mike DeWine will soon be able to pack heat.

"My wife and I are finishing up our course," DeWine said on Saturday, March 27, at the Ohio Liberty Fair in Troy.

DeWine, a Cedarville Republican, said he and his wife are getting concealed carry permits once they finish the mandatory gun safety course.
Rather than rant, I'll let the Buckeye Firearms Association explain (one-page PDF) why Mike and Fran DeWine's sudden interest in carrying guns is hyper-hypocritical: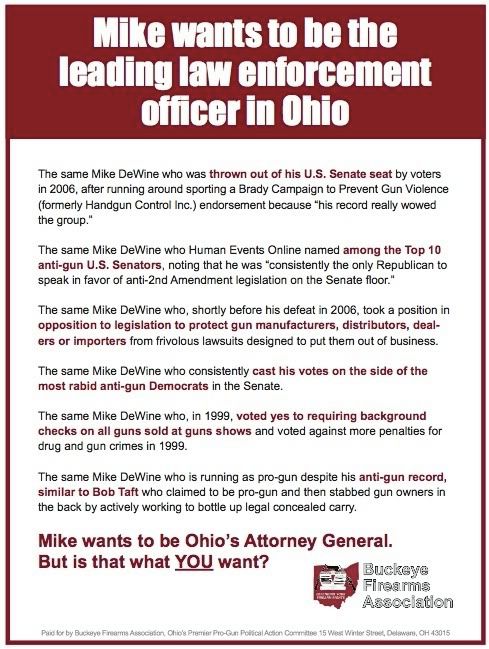 The same Dayton Daily News item contains strong evidence that the grandstanding isn't fooling anyone:
DeWine was one of several Republican candidates who spoke at the fair, which was co-sponsored by the Dayton Tea Party and the Miami County Liberty Group.

About 100 people listened quietly to DeWine's short speech, but his almost-opponent, Steve Christopher, received standing ovations.
More graphics-creative people than yours truly should start cranking out the Sheriff Mike cartoons.