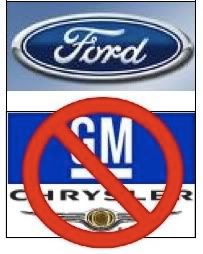 Consider it a Post Office-like performance.
Investors Business Daily ("What the Government Can't Do"), whose editorials are must-reads for hard news the establishment media will either ignore or downplay, has tipped readers off to the poor reviews General/Government Motors and Chrysler cars are receiving. These would include the latest automaker report cards compiled by Consumer Reports magazine.
Nearly one year into their new lives as wards of the state, it looks like one of those government "can't do's" involves improving car quality, while the car company not owned by Uncle Sam has gotten a bit better. Specifically, CR's April 2010 overview post tells us the following:
Among American manufacturers, only Ford improved over last year. It scored one point better to pass Mitsubishi for 11th place in our rankings. By contrast, Chrysler is again in last place and dropped two points since last year. And General Motors placed right where it did last year—second from the bottom—even though it eliminated half its brands and about one-third of its models.
Imagine that.
A look at the magazine's "most and least reliable" narrative shows just how bad things are at GM and Chrysler, and how things are looking up at Ford (bolds are mine; personal commentary is in italics):
Ford still leads the domestics

Ford consolidated its position as the only Detroit automaker with world-class reliability. (Ooh, that's going to leave a mark — Ed.) The Fusion and Milan led the charge; four-cylinder, front-wheel-drive V6, and hybrid versions got top marks.

Of the 51 Ford, Mercury, and Lincoln products that we surveyed, 46, or about 90 percent, were average or better, including the new Ford Flex SUV. But the Lincoln division had mixed results; some models scored below their Ford equivalents. All-wheel-drive versions of the Lincoln MKS, MKX, and MKZ, essentially high-end versions of the Ford Taurus, Edge, and Fusion, were all below average.

Following its bankruptcy filing and shedding the Hummer, Pontiac, and Saturn brands, GM now consists of Buick, Cadillac, Chevrolet, and GMC. Of the 48 models we surveyed from those brands, 20 had average scores, and only one, the Malibu V6 sedan, was better than average. (That means 27 were below average — Ed.)

… We recommend the Pontiac Vibe and the V8 version of the Pontiac G8, as well as the Saturn Aura, which have average or better reliability. (Translation: GM discontinued the good models — Ed.) Some of those cars can still be found on dealer lots.

In last year's survey we couldn't recommend any Chrysler products, either because of mediocre performance, poor reliability, or both. Now there is one: the four-wheel-drive version of the Dodge Ram 1500 pickup, which was redesigned for 2009. It did well in our road tests and rated average in reliability. Still, more than one-third of Chrysler products were much worse than average, including its new car-based SUV, the Dodge Journey.
Anyone understanding human nature can understand why Ford's improvement, and the absence of significant changes at GM and Chrysler, are not surprising.
Private enterprises have to improve both in quality and efficiency to survive. If Ford doesn't continue to get better, it could eventually go out of business. Ford acted as if this wasn't the case for several years in until early 2008, when the ongoing damage from the American Family Association's two-year boycott forced it to recognize that its obsession with politically correct causes had led it to take its focus away from its core mission. Since then, it's been onward an upward in Dearborn.
It would not be unreasonable to argue that if the AFA hadn't done what it did, Ford might have continued down the road to bankruptcy, and we might have a domestic auto industry totally controlled by the government. Yikes.
On the other hand, if GM and Chrysler remain worse than mediocre, it certainly affects the continued employment of key executives (each company has had management shake-ups during the past year), but otherwise — at least for now — it's not such a big deal. The incentive to improve simply isn't as great.
Cross-posted at NewsBusters.org.