In an article by the favorite reporter of Weapons of Mass Discussion's Matt Hurley, the intrepid Josh Sweigart, carried in the Dayton Daily News, the Oxford Press, and other area Cox publications:
Ohio Republican Party leaders defend the decision to include the logo on mailers for all their endorsed candidates — none of whom were endorsed by the Tea Party.

"These values that the Tea Party group claims is theirs are principles and part of the platform of the Republican party, and have been for decades," said John McClelland, Ohio GOP spokesman.
Uh, John — the problem is that you work for ORPINO (the Ohio Republican Party in Name Only). Your organization and too many of this state's alleged Republican politicians have all too often NOT followed the values and principles of the Republican Party for a decade and a half. Your organization's de facto intellectual property theft is an outrage; your organization's attachment of that stolen property to candidates who have demonstrated that they don't share those values and principles is despicable; your doing so without their permission is probably illegal; and finally, your reaction above, while fully expected, is still contemptible beyond clean words.
Several others have suggested an alternative ORPINO logo: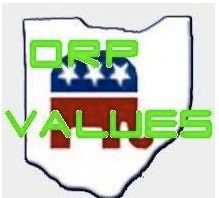 That's pretty good. It would be even better if the elephant were upside down.