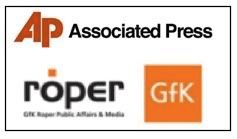 GfK Roper Public Affairs & Media, working for its project partner the Associated Press, conducted a poll from March 3-8 about Americans' car preferences and perceptions. The poll's results were released earlier this week, and the wire service's Dan Sewell reported on the results yesterday.
Why the 40-day delay? I'll suggest the possibility that the poll was timed in hopes that the detailed results would hurt and humiliate Toyota at the height of its safety recall problems. But just as the poll was completed, Toyota revealed that its sales had rebounded dramatically, while the evidence that the expense of a full recall was necessary had seriously weakened under closer examination (the degree of need is separate from the issue of whether the company notified the government of the possible problem, concerning which the company has apparently agreed to pay a stiff fine).
Further, the poll's detailed results contradict AP reporter Sewell's sunny-side up contention that American carmakers in general have improved their perceived quality. It's really only a certain American carmaker, as the graphic coming later will show.
But first, here are the opening paragraphs from Sewell's sterilized statements:
AP-GfK Poll: Americans shifting to US cars

Buy American? That's suddenly a good idea again to more car buyers. Toyota's safety problems and a buffed-up lineup of offerings from Detroit's Big 3 are rubbing the tarnish off car buyers' perceptions of U.S. models. An Associated Press-GfK Poll shows that 38 percent favor U.S. vehicles while 33 percent prefer Asian brands, a significant improvement for U.S. automakers compared to four years ago.

"Really, the American car industry has opened its eyes," said Jose Nunez, 24, a customer at Planet Dodge Chrysler Jeep in Miami on Wednesday. "And it's really giving the people what they want, what they need. I think after all we've been through, definitely the three big companies are responding to it."

The findings provide fuel for U.S. automakers who are getting sales and swagger back after a bleak period of huge financial losses, job cuts and market share declines. General Motors Co. and Chrysler LLC needed government help just to survive.

Watching an iconic American industry beaten down amid the Great Recession may be one reason Americans are giving U.S. automakers a closer look.
Man, I'm going to have to get taller boots if I have to keep wading through stuff like this. Here's that graphic I referred to earlier from the full report (large PDF accessible at this link; only items relevant to this post are presented below):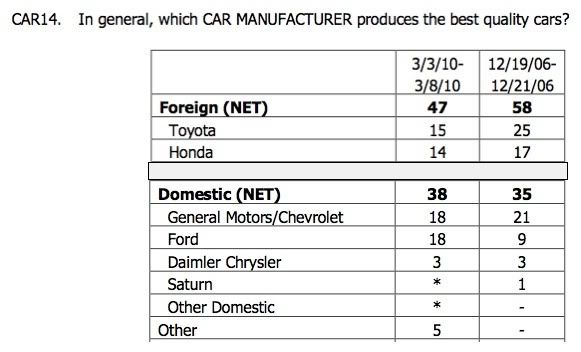 In the Foreign category, the pollsters got the result they appear to have wanted, as Toyota dipped by 10%. The "problem" is that Ford picked up almost all of Toyota's decline, while GM dropped and Chrysler stayed flat. It would also be nice to know the makeup of the mystery 5% "other" in the Domestic list. My guess is that it is makers whose headquarters are really overseas but whose operations are perceived as U.S.-based.
How Dan Sewell can generalize from the above that there is a big move to "buy American" is beyond me. The move is to "buy Ford," and, to a lesser extent, in terms of U.S. companies, to "avoid GM." The headline should have read, "AP-GfK Poll: Americans shifting to Ford."
No wonder the AP held the results for 40 days.
Cross-posted at NewsBusters.org.