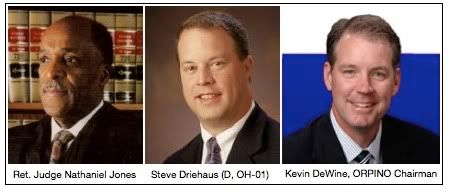 (Originally posted at 8:35 a.m.; carried to the top for the rest of the day)
_____________________
The sub-headline is: "Leftists have run out of arguments, while establishment Republicans in Ohio and elsewhere are running out of brains." It's two typical columns in length.
It will go up on Saturday morning here at BizzyBlog (link won't work until then) after the blackout expires.
The "Bigots" section builds around my attendance at a "celebration" of ObamaCare's passage sponsored by the Barack Obama/Democratic National Committee's Organizing For America group on April 12. Ohio First District Congressman Steve Driehaus was there, and was among the speakers.
The "Dingbats" section deals with the ongoing determination of OPRINO (the Ohio Republican Party In Name Only) to ram Jon Husted, Dave Yost, and incumbent State Central Committee RINOs down the Buckeye State's throats.
______________________________________________________
Some Key Passages — Bigots on the Left (bolds are mine in both sections):
"(Retired Judge Nathaniel) Jones … (told the audience) that those who are going around 'carrying tea bags' are 'the modern-day version of the KKK.' Yes, he did."
"As to the Reverend Jones's scurrilous characterization of ObamaCare's opponents, Driehaus … said that he agreed with him. He also said that those same forces that opposed the stimulus are against cap and trade and are resisting the 'realignment' that is occurring."
"(Driehaus) twice described his pre-passage (of ObamaCare) mindset in terms totally different from what he and the press portrayed in the run-up to the vote. Early in the speech, he said, 'I was fully confident we would get to yes.' In a later statement, it turned into 'I knew I would get there.' Especially note the 'I' in the second quote. There can be no reasonable doubt that Steve Driehaus always intended to vote as he did."
Some Key Passages — Dingbats on the Right
"The smell of fear emanating from the Ohio Republican Party … is palpable, both in the campaigns of its shakier candidates and the conduct of the party's upper echelon."
"… the establishment GOP is more interested in gaining power to take their turn at milking the state than they are in putting their house in order."
"(Jon) Husted's track record as a conservative, or even of being genuinely pro-life, is highly suspect. ORPINO still believes that voters will be willing to swap out Jennifer Brunner, the state's current intensely partisan and ACORN-corrupted secretary of state, for yet another it's-all-about-me party operative."
"While (Mike) DeWine's path to a primary 'win' is free and clear, Husted and (Dave) Yost have feisty, tea party-backed challengers in Sandy O'Brien and Seth Morgan, respectively. ORPINO's recent actions betray a genuine fear that their guys could lose, and conceivably lose big."
"If there's a way to blow the electoral opportunity of a lifetime and put the left's bigots in their place — out of power for many years — it seems that the Republican Party is stubbornly determined to find it."
___________________________________________________
DARKE COUNTY UPDATE (or, "A Dark Night in Darke County"):
Nate Nelson's post last night at From the Rust Belt ("Yost, ORP, and Supporters in Fit of Utter Desperation") is a must-read — a painful one, but a must-read nonetheless. It concerns what happened at a "Tea Party" meeting in Darke County, an West Central Ohio county that is one of the strongest GOP bastions in the state.
Here are key elements of that post:
Dave Yost badly needed a Tea Party endorsement. He finally got one.

Yes, Dave Yost got his Tea Party endorsement. He got that endorsement by a Tea Party formed only within the past couple of months, led by a man who is married to Yost's Darke County campaign chair. He got that endorsement via an extremely fishy voting procedure, concealed by all accounts — even that of one of his supporters — under the cover of a counter. He got that endorsement despite questions raised, questions that were dismissed with bellicose profanity spewed by Al Bliss, in the presence of children, inside a church.

Dave Yost got his Tea Party endorsement. He got it through gangster tactics employed by his supporters in Darke County, and by a reckless disregard for truth and journalistic integrity on the part of his blogging supporter, Mr. Henry Hill. These are the same gangster tactics that the Ohio Republican Party has employed on behalf of Dave Yost all along. These tactics are sickening. They are an affront to our democratic republican values. These tactics, those who make use of them, and the candidate who turns a blind eye to it all should be utterly repudiated by conservative Republicans throughout the state.

… In the meantime, you and I should keep doing what we've been doing. We should keep supporting Seth Morgan, CPA for Ohio Auditor of State — the Tea Party candidate, the grassroots candidate, our candidate, and the most qualified candidate to serve as our next Auditor. Let them keep up their petty games and old politics. We'll show them in May. We'll show David Pepper in November. And we'll have Kevin DeWine's job by December, at the latest.

… Darke County T.E.A. Patriots also endorsed Jon Husted for Secretary of State and Mike DeWine for Attorney General last night. When was the last time you heard of a legitimate Tea Party group endorsing either Husted or DeWine? I rest my case.
These days, it seems that anything ORPINO touches, it corrupts.
I guess if you're ORPINO, when you really don't have Tea Party values, you go out and start something you decide to call a "Tea Party" and impose your lack of values on it.
______________________________________________________
KEVIN DEWINE UPDATE: This is the final paragraph from a Kevin DeWine general-distribution e-mail earlier this week (bold is mine) –
Finally, I've seen and heard a lot of ridiculous accusations lately about the role of the Ohio Republican Party in this primary election. Understandably, much of it is motivated by the heightened emotions of political primaries and too often spread with little to no accountability through email, blogs, and social media sites. Unfortunately, most of it is flat out false, and it's typically generated by people who find the truth just too inconvenient for their agenda. I want you to know you can always contact my office or email me directly if you want answers to any rumor or accusation about something we're doing. This election is too important to let "noise" distract us from the real goal of winning in November.
Really, Kevin? Why don't you come over here (or go to Nate's place, or Matt Hurley's, or Matt Naugle's, or any one of several others) and tell any one of us where we're wrong? You can't, pal, and you know it. If you want to find someone who "find(s) the truth just too inconvenient for their agenda," I suggest you start with the person you see in the mirror every morning.