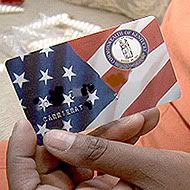 The core news story was at the Daily Caller a month ago.
As is the case with any government program, the rules are complicated, but the bottom line is that a lot of college kids who don't need them are signing up for and receiving Food Stamps — and it's all perfectly legal. It's also an absolutely outrageous, cynical, and transparent attempt to buy votes and create lifelong leftists.
I guess it's not enough to give Food Stamps to people with $80,000 in the bank and a $300,000 home.
Tom Purcell, a syndicated humor columnist for the Pittsburgh Tribune-Review, does get to a lot of key non-funny points about this development in between his riffs about subsisting on baked potatoes when he was in school (bolds are mine):
Whereas government-funded grub has long been available to the working poor, the U.S. Department of Agriculture (USDA), through its Supplemental Nutrition Assistance Program (SNAP), is eagerly expanding such benefits to college kids, too.

For starters, says The New York Times, the USDA has worked to take the stigma out of receiving government grub. It now calls food stamps "nutritional aid."

… Though it's not like college kids feel stigmatized by food stamps. Many can't believe their good fortune. That's because the USDA has made it easy for them, regardless of their socioeconomic background, to qualify. Many college kids are "poor" on paper even if they're from well-to-do homes.

And if they live at home with Mom and Dad, they still may qualify — so long as they can show that Mom and Dad prepare only half of their meals.

And so it is that many are receiving a few hundred bucks a month in free grub.

… In any event, it would appear our government is eager to get more people hooked on government handouts — President Obama's latest budget includes $72.5 billion for food stamps, almost double the amount from 2008.

And while most college kids figure they'd be dumb not to accept free grub if we taxpayers are dumb enough to let our government to pay for it, I offer a different take.

Nobody minds when his tax dough is used to help the working poor and others who are truly in need, but food stamps for college kids?

Let the spoiled moochers eat baked potatoes.
One additional item: The Daily Caller piece picked up this little tidbit from an Oregon advocacy site:
… federal financial aid including Pell grants, Perkins loans, Stafford loans and most work-study is not counted as income against student eligibility.
Oh, of course not. The only way you really hurt yourself is by working too much.