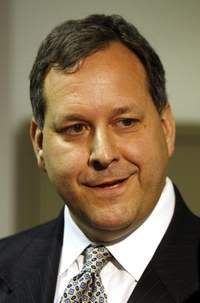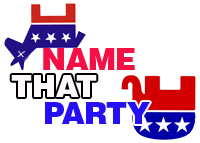 Columbus Bureau Chief Jim Provance at the Toledo Blade is a one-man "Name That Party" creativity machine:
In March of last year (covered at NewsBusters; at BizzyBlog), in a story about late financial reports from Ohio's state government, Provance identified State Auditor Mary Taylor, who criticized Governor Ted Strickland's administration for being so tardy with the numbers that they could not be audited in time for biennial budget deliberations — but never identified Strickland or anyone else involved in the snafu as a Democrat. NewsBusters commenter "Hoosierem reported that Provance, in response to a subsequent e-mail, had stated that "I should have taken the next step of noting the governor's party."
Then in May (covered at NewsBusters; at BizzyBlog), the slow-learning Blade reporter, in a story about the indictment of Anthony Gutierrez, a former aide to disgraced Democrat and former Attorney General Marc Dann (pictured at top right in a Blade photo), never named Guttierez's party — but did name the party of the county prosecutor who indicted him.
Provance's latest exercise in Name That Party creativity (HT to Maggie Thurber in an e-mail) revolves around Dann's guilty pleas on Thursday to ethics violations. This time, he got in a "clever" dig about Republican scandals going back a half-decade in his opening sentence, but never specifically ID'd Dann as a Democrat, referring only to "a Democratic wave" and "fellow Democrats" — in Paragraph 11.
Here are the relevant excerpts from Provance's presumptive prose:
Ex-Ohio Attorney General Dann admits guilt on 2 counts

Marc Dann, who rode Republican scandal into statewide office four years ago, stood before a judge himself Friday and pleaded guilty to two misdemeanor ethics violations that will keep him from holding a public job for seven years.

The usually defiant and combative Mr. Dann, who resigned in disgrace just 16 months into his tenure as Ohio attorney general, told the judge he accepted responsibility, but outside the courtroom he questioned the resources put into the two-year investigation of him.

"As you can see from the types of things that I was ultimately charged with, certainly the expenditures on the investigation were out of proportion to the alleged conduct," Mr. Dann said. "But I do take responsibility. I should have exercised better oversight and stronger oversight, and I didn't."

He was fined a total of $1,000 for the two charges and ordered to pay court costs and serve 500 hours of community service for improperly providing money from his campaign and inaugural committees to two aides and friends for unofficial use and for filing a false financial disclosure report that omitted additional sources of income.

(Skip to Paragraph 10)

… Now Mr. Dann is worried about losing a law license at a time when he is trying to re-establish a private practice and is facing a very public divorce.

He had said previously that he even surprised himself when he defeated veteran Republican Betty Montgomery in 2006, riding a Democratic wave that washed the GOP out of every statewide executive office save one. A year and a half later, he was pressured by Republicans and fellow Democrats to resign after Mr. Gutierrez was accused of sexual harassment by two female employees, allegations largely substantiated by an internal investigation.

When the results of that investigation were announced, Mr. Dann confessed to having had his own consensual, extramarital affair with his office scheduler, an affair that he said may have set a poor example for others in his office.
Provance's claim that Dann's victory in November 2006 was the result of "Republican scandal" is extremely shaky, given that 2006 was generally a good year Democrats. Strickland defeated GOP gubernatorial candidate Ken Blackwell, who had been a maverick in Bob Taft's administration while serving as Secretary of State and was not tainted by the Taft's ethical violations, by over 20 points. Dann won by 5. It's highly doubtful that Dann's promises to be clean and ethical were anywhere near as important as the Strickland campaign's promises to "Turnaround Ohio," meaning the state's then suffering economy. After three years with Strickland, that economy is now seriously ailing.
Speaking of Strickland, his name (naturally) never comes up in Provance's piece.
Anyway, heckuva Job, Jimbo. You'll have to excuse me if I have a hard time believing that you're even trying to play it straight.
Cross-posted at NewsBusters.org.