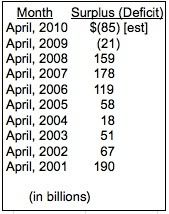 If a genuine, sustained economic recovery is truly underway, why can't the government show us the money? This would appear to be a question the establishment press has no interest in answering.
As seen in the graphic at the right (HT to an e-mailer), when the government's Monthly Treasury Statement is released next Wednesday, anticipation is that it will show an April deficit of $85 billion. That estimate comes from the Congressional Budget Office, which released its Monthly Budget Review yesterday.
The government almost always runs an April surplus because it's the biggest month for tax collections. Individual filers have to settle up what's left of their previous year's liabilities with Uncle Sam on April 15, and the first installments of current-year individual and corporate estimated taxes are also due.
But as seen in the chart that follows, April receipts have cratered during the past two years by stunning amounts compared to April 2007 and 2008. The April 2010 plunge continues a nearly unbroken trend of year-over-year declines in monthly receipts going back almost two years: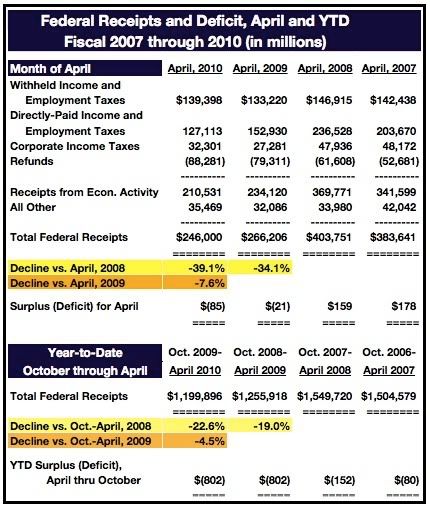 (Sources: last Daily Treasury Statements issued in April 2007, 2008, 2009, 2010, saved at web host; Monthly Treasury Statements for April 2007, 2008, and 2009)
The main reason April has turned so ugly during the past two years isn't spending (though that has of course increased significantly). The $158 billion reduction in receipts explains almost 65% of the $244 billion two-year swing (from +$159 to -$85). The 46% drop in the "Direct Paid Income and Employment Taxes" line item is the primary culprit, accounting for $119 billion of the $158 billion collections reduction. Closely-held corporations and the self-employed are not generating nearly as much taxable income as was the case two years ago.
Associated Press searches on "CBO" and "Congressional Budget Office" at about 10:30 a.m. Eastern Time returned nothing relevant and nothing relevant, respectively. A Google News search on "Congressional Budget Office" returned four items. One item from the AP is literally a data dump of information that is mostly from March. Two of the other three items are a brief report from Dow Jones and a Buffalo News column by Robert Murphy of the Pacific Research Institute that analyzes the country's dismal long-term financial outlook while it stays on its current trajectory.
The final item at the Hill is a probable preview of the press spin when the Monthly Treasury Statement comes out next week: "Oh boy, the deficit's not so bad." Entitled "Budget deficit about $800 billion, unlikely to hit projected levels," here's the money paragraph:
Record deficits of more than $1.5 trillion for this year were estimated by the Office of Management and Budget and the nonpartisan Congressional Budget. But with only five months left in the fiscal year, shortfalls are unlikely to reach those levels.
Well of course not, as I explained early last month when the administration manipulatively threw a $115 billion non-cash item into March's reported results that created a supposedly "dramatic" deficit reduction:
In essence what happened is that the administration pushed as much "bad news" (asset writedowns) as it could into last year's financial reporting, since last year was going to be a disaster no matter what. But since they overdid it with the (TARP-related) writedowns last year ("Gosh, how did that happen?"), they can make this year look better than it really has been.
Until the monthly reports show us consistently increasing amounts of money coming in from economic activity and genuine attempts at controlling spending, any evidence presented that Uncle Sam's fiscal situation is improving will be illusory.
Cross-posted at NewsBusters.org.