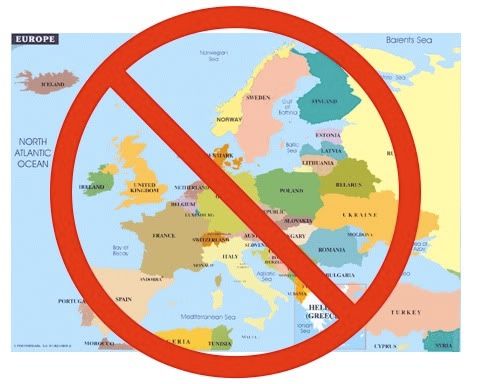 In a Wall Street Journal column this morning that should be read in full, Daniel Henninger looks over the ocean and describes where we're heading under the person HillBuzz likes to call "Dr. Utopia":
One of the constant criticisms of Barack Obama's first year is that he's making us "more like Europe." But that's hard to define and lacks broad political appeal. Until now.

Any U.S. politician purporting to run the presidency of the United States should be asked why the economic policies he or she is proposing won't take us where Europe arrived this week.

In an astounding moment, to avoid the failure of little, indulgent, profligate Greece, the European Union this week pledged nearly $1 trillion to inject green blood into Europe's economic vampires.

For Americans, this has been a two-week cram course in what not to be if you hope to have a vibrant future. What was once an unfocused criticism of Mr. Obama and the Democrats, that they are nudging America toward a European-style social-market economy, came to awful life in the panicked, stricken faces of Europe's leadership: Merkel, Sarkozy, Brown, Papandreou. They look like that because Europe has just seen the bond-market devil.

… Angus Maddison, the eminent European historian of world economic development who died days before Europe's debt crisis, wrote in 2001: "The most disturbing aspect of West European performance since 1973 has been the staggering rise in unemployment. In 1994-8 the average level was nearly 11% of the labor force. This is higher than the depressed years of the 1930s."
Whoa. Stop. Right. There.
Grasp what is in the bolded sentence. ….
Read it again, just to be sure, and never forget it.
What Maddison is telling us by inference is that Europe during the Herbert Hoover/Franklin Delano Roosevelt Depression Era far outperformed the USA in keeping its people at work.
As is somewhat commonly known, US unemployment stayed unacceptably high throughout the 1930s despite (really because) of everything Hoover and then FDR did:
By June 1937, the recovery—during which the unemployment rate had fallen to 12 percent—was over. Two policies, labor cost increases and a contractionary monetary policy, caused the economy to contract further. Although the contraction ended around June 1938, the ensuing recovery was quite slow. The average rate of unemployment for all of 1938 was 19.1 percent, compared with an average unemployment rate for all of 1937 of 14.3 percent. Even in 1940, the unemployment rate still averaged 14.6 percent.
Every unemployment figure cited is far worse than the "under 11%" of 1930s Europe, which with the exception of Germany was not embracing doctrinaire socialism.
In other words, we've been here before. It was awful. Only World War II and FDR's passing saved us from his central-planning nightmare.
As has been noted at this blog many times, they should have known better, but many if not most of those who supported Barack Obama in 2008 did not believe they were opting to put the worst aspects of FDR on steroids and a not-too-distant circling of the economic drain in their future. But that's really the deal they made.
Five months of election results and their offshoots — just for starters, see defeated Congressman Allan Mollohan, retiring Congressman David Obey, retiring Congressman Bart Stupak, new Massachusetts Senator Scott Brown, elected New Jersey Governor Christie, elected Virginia Governor McDonnell — have made it crystal clear that many of those who opted for the hopey-changey mush they were offered in 2008 have realized that they were baited and switched into 21st century Euro-style socialism.
Actually, it's even worse than that, as I wrote in March in detailing ObamaCare's subsidy structure, which includes de facto marginal "tax" rates of over 100% (see the purple boxes in the graphic on the right after clicking to enlarge it). I called it "far more extreme than virtually anything Europe's most brazen socialists have attempted since World War II" — because it is.
This time, a World War won't save us. Going back to Henninger:
Stagnation isn't death. Economies don't die. Greece proves that. They slow down. Europe's low growth rates allow its populations to pretend that real, productive work is being done somewhere by someone. But new jobs are created slowly, if at all. Younger workers lose heart.

Economic stagnation is a kind of purgatory. Once there, it's not clear how you get out. The economist Douglass North, in his 1993 Nobel Prize acceptance speech, said that one of the vexing problems of his discipline is, "Why do economies once on a path of growth or stagnation tend to persist?" Japan also seems unable to free itself from stagnation.
I have an answer to Douglass North's question that I believe will stand up to scrutiny: The dependents and rent-seekers in a statist/socialist economy won't let go of their freebies and privileges without a (sometimes violent) fight, and it's easier for politicians to try to find any way they can to accommodate them. Witness the reaction on the streets of Greece.
We've already gone too far down the Greecey 21st century European path. We must stop it before it boxes us into persistent stagnation, demoralizes our young, and condemns future generations to mediocrity and misery.